Help Your Clients Go Gluten-Free the Easy Way BUY NOW
HOW TO MASTER THE ART OF GOING GLUTEN FREE
AN EASY-TO-LAUNCH DONE-FOR-YOU OPT-IN FREEBIE
Right now, your future clients are Googling how to go gluten free, searching for easy to prep gluten free recipes, and trying to figure out how they can go GF the easy way because life is BUSY.
Wouldn't you love to be the coach to help your clients experience the amazing benefits of going gluten free?
THE ANSWER IS YES.
GF is hot, but it's no fad. Imagine helping your clients slim down, lessen inflammation, restore their gut, ease headaches, lessen skin breakouts, improve their skin, and so much more.
Your clients need an easy download to help them master the art of going gluten free.
This launch-ready, profit-boosting opt-in freebie is the solution you've been searching for.
And you, Coach?
Do you need a Done-For-You Opt-In Lead Magnet that gets your soon-to-be clients results, so they choose you as their new coach?
Would you love to help your clients who want to go Gluten Free, but can't find the time to make ANOTHER program?
Are you struggling to get clients to opt-in to your newsletter list?
It's time to change your clients' lives and your business for the better.
Everything You Need to rock your business is just one click away.
The best way to get clients is to launch a high-demand opt in freebie loaded with helpful tips and offer results-driven content, so your subscribers always return.
Are you ready to drill down on what matters?
Does your coaching practice focus on the gut, hormones, weight loss, or metabolism?
Do your clients need answers to problems like hair loss, bloating, or skin problems?
Are you trying everything you can to build your email list, but nothing is working?
Do you wish you had an irresistible opt-in freebie you could offer or maybe even launch as a low-cost tripwire to grow your business?
HELPING YOUR CLIENTS JUST GOT A WHOLE LOT EASIER.
Download your materials instantly:
Build your list with this attractive plug n' play lead magnet
Make money by selling the guide as a low-cost tripwire
Funnel in clients by leading to your 1:1 coaching
Build your reputation by printing out the guide and using it to host a local workshop
Make money by charging a fee to access a private class on going gluten free
Increase your clientele by offering a special for your 1:1 coaching
GET READY TO BE THE HOTTEST GLUTEN FREE GURU OF THE SEASON WITH…
How To Master The Art of Going Gluten Free
---
THE hottest program of the season, with your brand all over it.
Your clients get all of this with YOUR name on it because I only put out COPYRIGHT FREE business building goodies:
The 18+ page How To Master The Art of Going Gluten Free e-Guide that includes everything your client needs to take care of their body, rid inflammation, and repair their gut.
Recipe Guide with 3D cover – 9 mouth-watering, gluten free, nourishing recipes to make it super easy for your clients to eat healthy and support their body even if they're juggling a fast-paced lifestyle.
PLUS suggested meals for breakfast, lunch, and dinner, so they don't have to wonder what to eat to get the results they want.
A handy cheat sheet on How to go Gluten Free with Ease, making it easy as 1-2-3 for your client to say goodbye to gluten FOREVER.
A detailed, easy to follow shopping list because no one has time to write down another list. Everything is GO GO GO! Now the planning is done for you and for your client. WIN-WIN!A gorgeous personal food diary to help track their habits, give you a window into where gluten gets them, and help them make real, lasting changes.
MAKE IT EASY FOR YOUR CLIENTS TO GO GLUTEN FREE AND SAY GOODBYE TO INFLAMMATION.
They'll love you for it!
And you, Coach? Your rockin' business gets incredible business empowerment tools so you can crush your launch for EPIC sales.
A heart-warming welcome letter that you can plug into Mailchimp, AWeber, or whatever software you choose. Pssst – you can even print this baby out and hand it to people in person, because this ENTIRE freebie can be offered in-person, too (gyms, spas, wherever, whenever you choose).
An effective, high-converting opt-in page with just enough of that secret sauce to rock this baby out on Eventbrite, Weebly, Wix, WordPress, Squarespace, or a Facebook event page.
Super fly-lookin' 2D & 3D e-guide covers for marketing your opt-in freebie, because in order to hook you gotta make 'em look.
3 ready to roll-out banners to upload to your Facebook event, Facebook group, and newsletter header.
5 designer social media images guaranteed to grab attention and get clients to sign up for your challenge!
A step-by-step tutorial on how to setup a Facebook event and start a Facebook group, so you can INVITE, BUILD RELATIONSHIPS, & ROCK THE LAUNCH OF YOUR BUSINESS.
My exclusive Facebook Group Engagement Guide that shows you how to use your Facebook group to attract your dream clients and get them excited to work with you one-to-one.
Don't miss an opportunity to grow your business. You've been waiting long enough to start making a real income doing what you absolutely love. Why wait anymore?
Buy it. Brand it. Launch it. But most importantly, KNOW HOW TO USE IT. This program makes a great bonus item you can use to incentivize future clients to sign up for programs, or as a bonus gift for the ones who already did. Leverage the info inside, based on your niche, and based on what you are teaching your clients.
This program is the perfect…
Bonus gift for early-bird subscribers
Opt-in freebie offer
Free challenge to draw new clients on social media or at the gym
Email incentive for signing up for your signature program or 1:1 coaching
Tripwire or gateway program for clients who want to 'test the waters' before committing to something bigger
Value-proving, credibility-boosting, an authority-building tool to rock your business to the next level in your biz
GIVE YOUR DREAM CLIENTS WHAT THEY WANT, BEFORE THEY GOOGLE ANOTHER COACH WHO WILL.
I sold 20 summer detoxes and made $1660
I started out as a health client in 2011 and worked with Rach for 4 months to lose 15 pounds!! Then when I graduated from IIN, I started Fearful to Fit and purchased Rach's DFY programs. From just this year, I sold 20 summer detoxes and made $1660, then on a whim, sold 11 paleo detoxes and made $917 for a grand total of $2,577!! I followed the advice and suggestions, put my own spin on it and voila! Can't wait to offer more in 2017!
JJ Muenz
Rachel's programs look incredibly professional.
When I was first starting out, I didn't know where to begin. It was a blessing to find Rachel and her team. Her programs got me out there and the support in the forums is priceless. I sold 35 Spring Cleanses & rolled 4 clients into my transformation program, generating more monthly income & boosting my confidence!! Rachel's programs are not only are they put together with thought and care, they look incredibly professional.
Trish Ward
Everything you need to jumpstart your business is right here for ONLY $67.
HOW TO MASTER THE ART OF GOING GLUTEN FREE
What happens when you buy?
I'll send you an email with your private membership access to download your materials. All you have to do is edit as little or as much as you'd like, launch, and sell your done-for-you program. It's that simple! If you've got questions, you'll also get access to my support group for any health coach who has ever purchased a Done-For-You Program.
It's your turn to get clients and get paid.
SAY yes to SALES and CLIENTS.
Buy It and Got For It!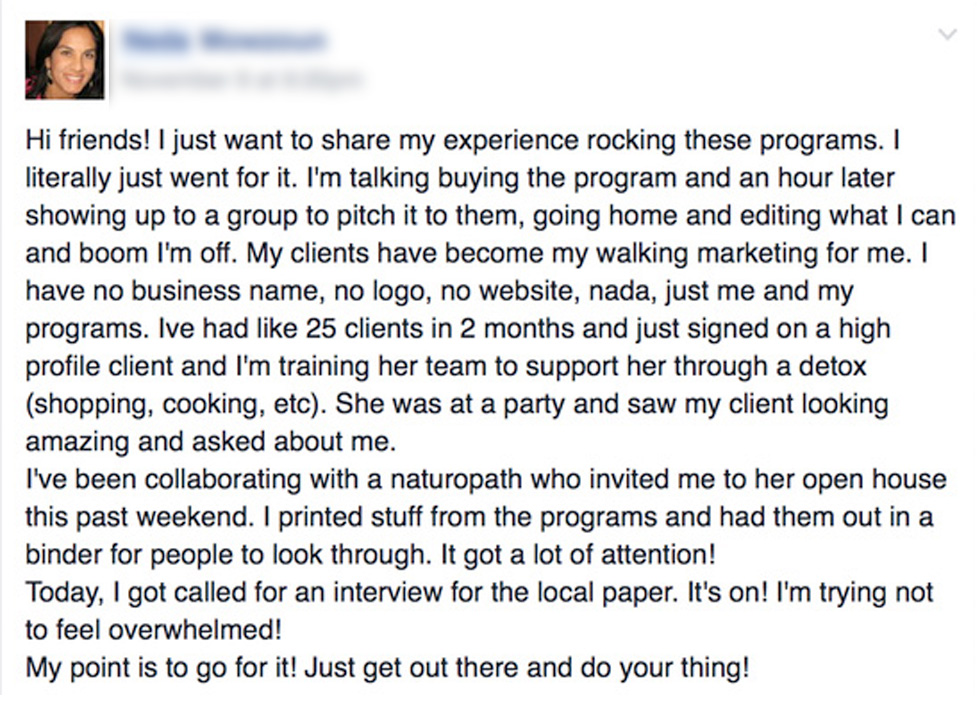 Neda - Facebook Comment
I've learned the importance of showing up.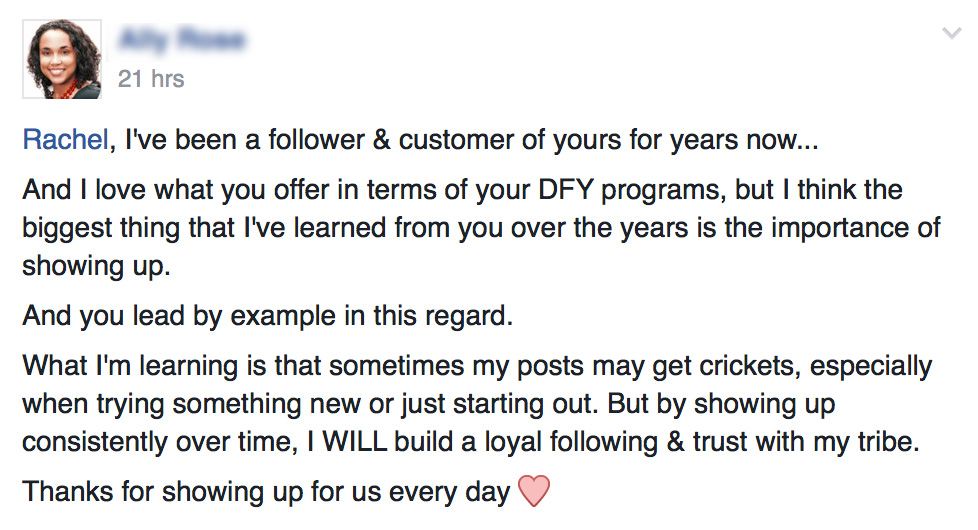 Ally - Facebook Comment
Hey, freedom-searching coach. I'm Rachel Feldman, long-time 6-figure Health Coach turned Business Niche Coach.
I'm the bold, brazen creator of the Health Coach Done For You Programs. I graduated from the Institute for Integrative Nutrition in New York City, Wild Rose Natural College of Healing, the International School of Detoxification and Natalia Rose Advanced Detox Certification Training. I've been featured in Florida Man and Woman magazine, Mind Body Green, Williams & Sonoma blog, Ripe & Ready, The Huffington Post, Thrive Global, Forbes, and many others. I am also a featured business educator at the Hippocrates Health Institute.
For years, I struggled with chronic health issues. While digging into the root cause of my own health struggles, I discovered the power of clean eating and detoxing. Clean eating and detoxing became the foundation for my own health transformation, and also the core of my own health coach practice and the Done For You Programs. After building my health coaching business from bare bones to six figures, I expanded my mission to help new coaches follow suit and create their own thriving success. I created these programs for health coaches so they could spend less time creating and more time coaching clients.
To date, I've helped over 8,500 coaches finally turn a profit, book more clients, and sell out programs of their own. I am beyond passionate about creating a world with less sickness and more happiness, whether I'm behind the scenes helping other health coaches spread their message and their work with the Done For You Programs or coaching clients how to launch the programs and their business successfully. Even though I'm always on the go, teaching, speaking on podcasts and summits, I always make time for a green smoothie, chocolate at noon, and a cuddle session with my hubby and kids.
I'm here to give you REAL TOOLS to build a business that gives you FREEDOM.
So prepare yourself, coach. I'm ready to reveal every juicy detail of my business success story AND help you crush it online and offline.
Do you still have questions? Please check the FAQ page for answers to common questions.
REFUND POLICY: Due to the nature of a downloadable product, we do not issue refunds. If you have questions about what product is right for you, please fill out the contact form. Thank you for understanding and we look forward to supporting you. To read the full disclaimer and FaQ's, please visit https://yourhealthcoachbiz.com
Be an Affiliate
Want to be an Affiliate? Sweet. You can rock the ripple effect and share the love with another wellness professional. Join our affiliate program and receive a referral for rockin' the ripple effect and helping another wellness professional start their business with the right tools and the right community support.
Click here to join the affiliate program.
IMPORTANT NOTICE: Your use and purchase from this site signifies your agreement with my Terms & Conditions and Product Disclaimer. If you do not agree with my Terms & Conditions and Product Disclaimer, please do not buy this product and close this website.
HOW TO MASTER THE ART OF GOING GLUTEN FREE by Rachel Feldman is licensed under a Creative Commons Attribution-NonCommercial-NoDerivs 3.0 Unported License. RE-SALE OF ALL PROGRAM MATERIALS IS PROHIBITED.