RACHEL FELDMAN PRESENTS…
AN EXCLUSIVE
LIVESTREAM EVENT

WITH REAL-DEAL BUSINESS HACKS FOR HEALTH COACHES
The only NON-BS approach to help you fast-track making money online and offline
JOIN ME LIVE FOR LIVE TALKS, LIVE Q + A AND REAL STRATEGIES FOR BUILDING YOUR HEALTH COACH BIZ: ONLINE, OFFLINE AND 1:1.
[ujicountdown id="Fall Squeeze 2017 Square" expire="2017/11/17 12:00″ hide="true" url="" subscr="" recurring="" rectype="second" repeats=""]
LiveStreaming for Health Coaches and Wellness Professionals
WHEN?
Starting March 2nd, 2018
WHERE?
Your Computer
SIGN UP BELOW TO GET THE DEETS.
PLUS, YOU'LL GET MY EXCLUSIVE BONUS…
BONUS GIVEAWAY
Sign up and gain immediate access a Free E-Book for you to Brand & Launch as a gift or list building.
You know you want it!
Grab it below.
HEALTH COACH LIVESTREAMS starting March 2nd, 2018 
Livestream #1
How to launch a weight loss program when you have no L I S T
Livestream #2
How to Launch a sugar program and brand to your niche
Livestream #3
How to do VLOG for SEO use content to get clients
Livestream #4
How to Livestream from Zoom into your Facebook Group
Livestream #5
How to use the DFY programs in your 1:1 biz
Livestream #6
How to Build Authority Locally and host an event
Livestream #7
How to launch without stress using a Launch timeline
LiveStream #8
How to launch a challenge leading to your program
and many more high value livestreams to rock your biz…
No BS Scripts.Just Raw, LIVE, in your face real-deal biz tips.
This Health Coach Livestream Event is for you if…
You want to save tons of money trying to create your own program, and start making money using the done-for-you programs.

You are DONE wasting hours on social media to try to turn your engagement efforts into more paying clients.

You want real-deal business strategies that you can implement right away without the BS approaches you can find elsewhere.

You are ready to get clients, make money, and build a boomin' health coaching business that fuels your dream life.
What my rockstar clients are saying…
I sold 20 summer detoxes and made $1660
I started out as a health client in 2011 and worked with Rach for 4 months to lose 15 pounds!! Then when I graduated from IIN, I started Fearful to Fit and purchased Rach's DFY programs. From just this year, I sold 20 summer detoxes and made $1660, then on a whim, sold 11 paleo detoxes and made $917 for a grand total of $2,577!! I followed the advice and suggestions, put my own spin on it and voila! Can't wait to offer more in 2017!
JJ Muenz
Rachel's programs look incredibly professional.
When I was first starting out, I didn't know where to begin. It was a blessing to find Rachel and her team. Her programs got me out there and the support in the forums is priceless. I sold 35 Spring Cleanses & rolled 4 clients into my transformation program, generating more monthly income & boosting my confidence!! Rachel's programs are not only are they put together with thought and care, they look incredibly professional.
Trish Ward
Buy It and Got For It!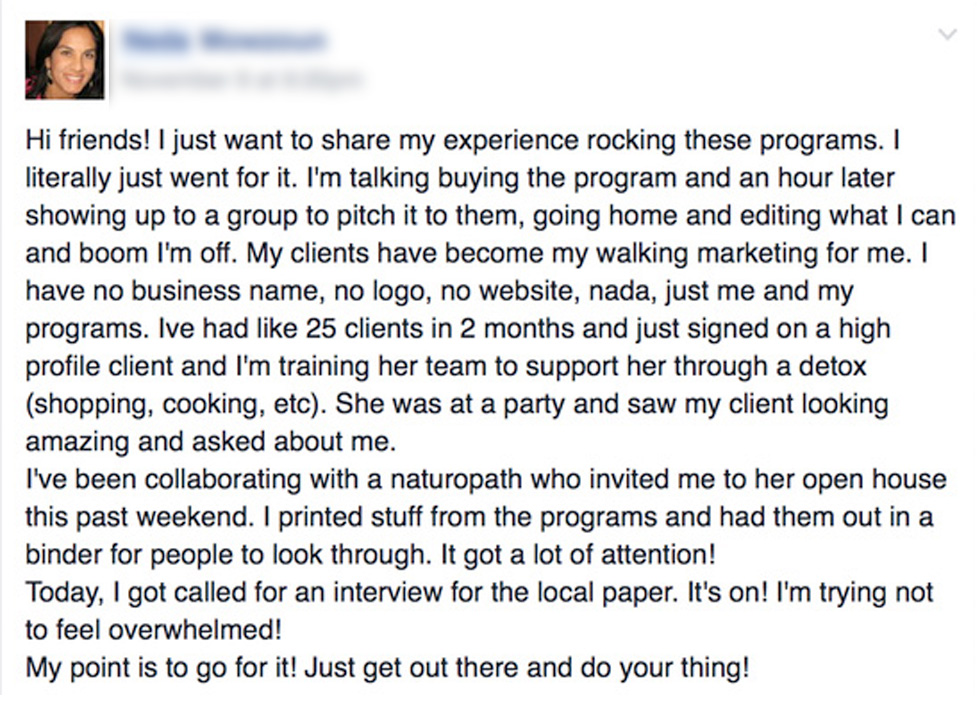 Neda - Facebook Comment
I've learned the importance of showing up.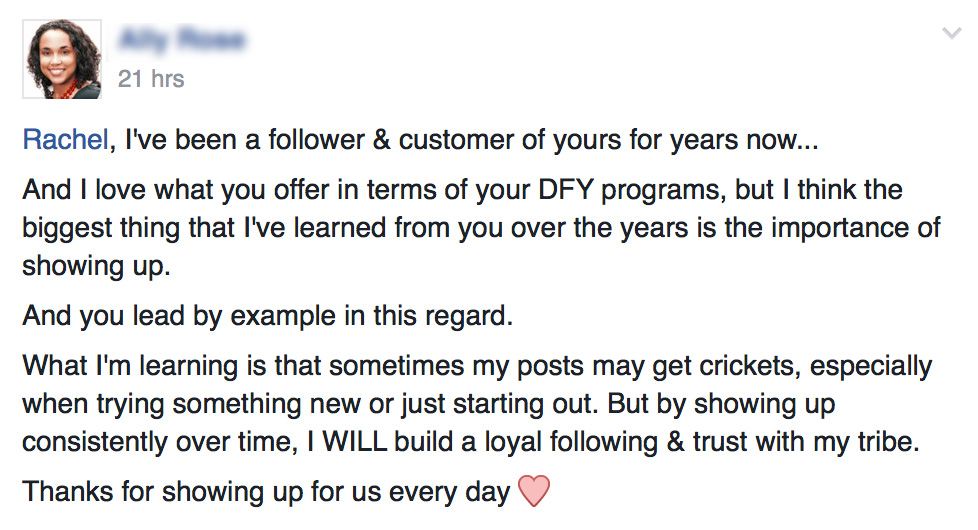 Ally - Facebook Comment
These programs completely transformed my business and time freedom
I just wanted to share a success story with those of you that are holding back from getting your program out there in hopes that it will inspire you. I expanded upon the 28-day program and added videos to it and a bonus detox to go with it. I have been selling this as my high-end online product and so far have made $7000 Aus in sales (this doesn't even include the detoxes that I also have sold separately) this has completely transformed my business and time freedom. I heard recently that most coaches barely make $10000 in their first year so it's pretty awesome that I have been able to make that in just online products.
Thank you, Rachel Feldman for over-delivering and giving me the foundation to change lives and my business.
The feedback I have received from my ladies that have transformed their lives is awesome!! I am so grateful for you.
Belinda Whalen
LEARN HOW TO USE REAL-DEAL BUSINESS HACKS TO BUILD YOUR BUSINESS FROM THE GROUND UP.
LET'S START WORKING YOUR BUSINESS SMARTER!
I'm Rachel Feldman, former Health Coach turned Business Launch Coach, and also – your new best friend in the business.
I'm the bold, brazen creator of the Health Coach Done For You Programs. I graduated from the Institute for Integrative Nutrition in New York City, Wild Rose Natural College of Healing, the International School of Detoxification and Natalia Rose Advanced Detox Certification Training. I've been featured in Florida Man and Woman magazine, Mind Body Green, Williams & Sonoma blog, Ripe & Ready, The Huffington Post, Thrive Global, among others. I am also a featured business educator at the Hippocrates Health Institute.
For years I struggled with chronic health issues, and while digging into the root cause of my own health struggles, I discovered the power of clean eating and detoxing. Clean eating and detoxing became the foundation for my own health transformation, and also the core of my own health coach practice and the Done For You Programs. After building my health coaching business from bare bones to six figures, I expanded my mission to help new coaches follow suit and create their own thriving success. I created these programs for health coaches so they could spend less time creating and more time coaching clients.
To date, I've helped over 8,500 coaches finally turn a profit, book more clients, and sell out programs of their own. I am beyond passionate about creating a world with less sickness and more happiness, whether I'm behind the scenes helping other health coaches spread their message and their work with the Done For You Programs or coaching clients how to launch the programs and their business successfully. Even though I'm always on the go, teaching, speaking on podcasts and summits, I always make time for a green smoothie, chocolate at noon, and a cuddle session with my hubby and kids.
Don't just listen to me, listen to health coaches who once sat where you are now, deciding whether or not this was their moment, they took a chance – and it worked.
YOUR TIME IS NOW.
DON'T WAIT!
IMPORTANT NOTICE: Your use and purchase from this site signifies your agreement with my Terms & Conditions and Product Disclaimer. If you do not agree with my Terms & Conditions and Product Disclaimer, please do not buy this product and close this website.
LAUNCH LIVESTREAM EVENT by Rachel Feldman is licensed under a Creative Commons Attribution-NonCommercial-NoDerivs 3.0 Unported License. RE-SALE OF ALL PROGRAM MATERIALS IS PROHIBITED.
Copyright © 2017 Rachel A. Feldman
SaveSave
SaveSave