FREE WEBINAR FOR HEALTH COACHES: Rachel A Feldman
The Hybrid Funnel Formula: An Easier Path to Making $6-Figures as a Health Coach
BONUS: Get immediate access to a 6-Part FREE Video e-Course: How to Create Your Money-Making Wellness Funnel Online or Offline
FREE WEBINAR TRAINING &
AUGUST 12TH & AUGUST 16TH, 2018 @7 PM EDT
[ec id="1″]
It's time to ditch the over-complicated business models & confusing tactics that are wasting your precious time & bringing in ZERO profit.
Fast-track the know, like & trust factor with your audience so you warm up cold leads

fast

Attract the right leads to your sales funnel so you sell your coaching programs to your DREAM clients

Make $3 – $5K+/month with an easy, clear & repeatable launch blueprint
Even if you're brand new to marketing, struggling with imposter syndrome or terrible with tech.
ON THE 12TH OF AUGUST @ 7PM EST…
01.
A SPECIAL SUCCESS STORY
Join me and a Rockstar Coach JJ to learn how she has used the Done-For-You Programs to build her business in her 1:1 practice, retreat, VIP days, Mastermind and Online Programs. Learn her step-by-step process.
Featuring the release of the

fall done for you programs

for health coaches and wellness professionals.
Get first dibs on over 25 ready-to-roll, professionally designed programs that'll get your signature biz BOOMING…
Including the 7-Day Ketogenic Jumpstart Program, Intermittent Fasting & Biohacking Workshops, Benefits of CBD Oil Opt-in Freebie, Grain-Free Detox, all new 6 Month Hormone Health Program, and more!
ON THE 16TH OF AUGUST @ 7PM EST YOU'LL LEARN HOW TO…
01.
CREATE A SIGNATURE BUSINESS THAT SETS YOU APART & HELPS YOU SELL
I'll show you a step-by-step system for branding your business that defines who you are, differentiates your work, and helps you attract your soulmate clients. Don't worry, my method for niching down is simple and easy to implement. You'll finally understand how to create & sell offers that speak to the people you want to work with.
03.
RUN YOUR PROGRAMS & BOOK CLIENTS OFFLINE
I get it – we're all obsessed with the internet – but it's not the only way to book clients or run your business. I'll walk you through the exact strategies I used to get booked out early in my own business – before internet marketing exploded. I'm going to show you exactly what steps to take to make local marketing – spas, gyms, workshops, and more – work for you.
Get in on all that action PLUS the three killer bonuses down below.
BONUS #1:
MY PROFITABLE SIGNATURE BIZ BLUEPRINT 3-PART VIDEO SERIES
When you register, you'll get instant access to these videos and worksheets that give you a detailed breakdown of how to earn $60K, $85K, or $100K in your wellness business. No more blindly setting income goals with no clue how to reach them. These videos will show you exactly how to rock multiple income streams to hit those milestones, whether you're rocking your biz online or offline.
BONUS #2:
20% VIP COUPON CODE
You'll get a LIMITED TIME ONLY VIP COUPON CODE for 20% OFF the Fall Done-for-You Program of your choice. This exclusive discount will be available for a short time only. The clock starts on this offer as soon as the webinar ends – TICK. TOCK. You will get access to the 20% savings on both webinars: August 12th and August 16th.
***YOU'VE GOTTA SIGN UP FOR THE WEBINAR TO GET THOSE SWEET BONUSES.
THEY'LL AUTOMATICALLY BE SENT TO YOUR INBOX, ALONG WITH THE WEBINAR REPLAY!***

HOW DO YOU GRAB A VIP SEAT BEFORE THEY'RE ALL SNATCHED UP?
COMPLETE YOUR REGISTRATION, BABY!
It's all going down Thursday, August 12th and August 16th at
P.S. This gem will be recorded.
I hosted my first webinar and had over 50 people register!
I am so thankful that I took a leap a faith……and invested in this program. I was nervous initially because I have purchased other programs that weren't user friendly and ended up being a waste of money. I purchased the Rockstar package and started with the "Detox is Easy," powerpoint. I used it to host my first webinar and had over 50 people register! Using Rachel's advice I added information about the cleanse at the end and had several people register immediately. This was not only my first time running a cleanse but my first time ever running a program as a health coach.
Cristine Candice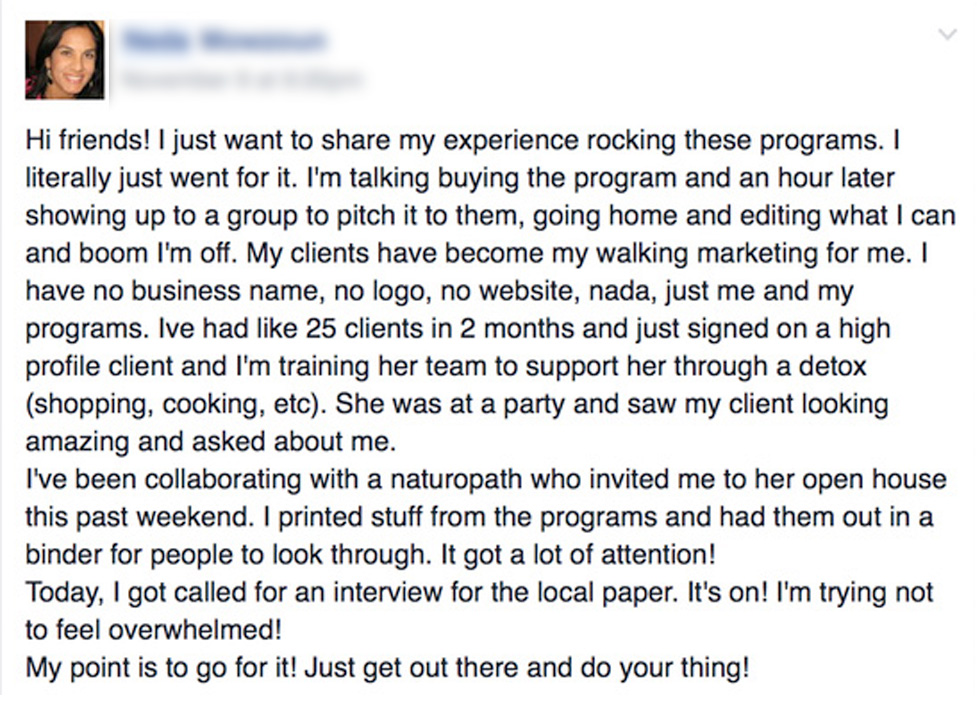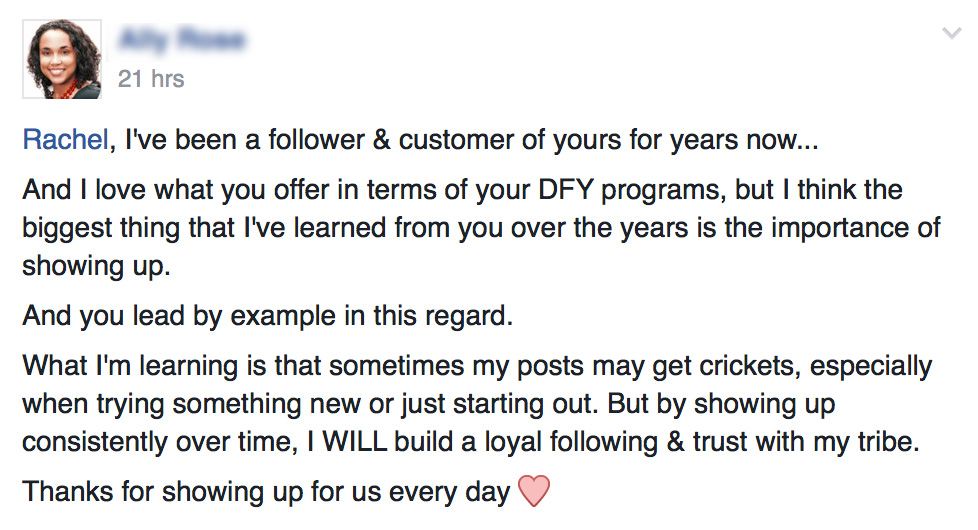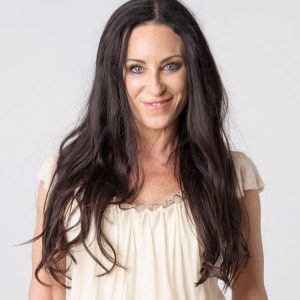 Hey, healthy rockstar! I'm Rachel A. Feldman.
I'm a kickass business coach for health & wellness professionals who are sick of settling for businesses that don't attract dream clients or get them paid. I teach my clients how to define their niches, create stories that sell, set up systems, and design leak-free funnels that convert. My own health struggles led me to the field of health coaching, and I went from making $13K my first year in business to over 6-figures by year three. That success inspired my organic transition to business coach & mentor. Now, I'm proud to say, I've mastered a business that feeds my soul, my spirit, and my family.
IMPORTANT NOTICE: Your use and purchase from this site signifies your agreement with my Terms & Conditions, Privacy Policy and Product Disclaimer. If you do not agree with my Terms & Conditions and Product Disclaimer, please do not buy this product and close this website.
How to Create a Signature Wellness Business Online or Offline by Rachel Feldman is licensed under a Creative Commons Attribution-NonCommercial-NoDerivs 3.0 Unported License. RE-SALE OF ALL PROGRAM MATERIALS IS PROHIBITED.

Copyright © 2018 Rachel A. Feldman | Wellness Business Solutions In A Box. All Rights Reserved.