REV UP YOUR CLIENTS, REV UP YOUR BUSINESS BUY NOW
This is the energizing bunny your clients have been dreaming about.
Cheesy, yes, but true, like the fact your business and your clients need a pick-me-up ASAP!
Health coach, I know what it looks like to sit behind your computer for days on end, creating email campaigns, recipes, PowerPoint presentations, and crashing along the way because you don't have your social media on point and because you think that's what's not giving you the sales you need!
What if I told you I have THE PERFECT SOLUTION for you? One that makes it so you can stop feeling like your energy is being zapped away by your business, and instead focus it on your clients and networking?
Coach, let's be honest. Wouldn't you rather hang out with your loved ones and change people's lives?
After all, THIS IS WHO YOU WERE MEANT TO BE.
Get ready to meet your business's best friend. The 21 Day Eat for Energy™ Program. A program guaranteed to give your clients results and your business a profit boost.
The 21 Day Eat for Energy Program is paleo, gluten free, dairy free and omnivore.
This program is right for you if…
A program guaranteed to give your clients results and your business a profit boost.
You don't have time to create the business of your dreams because your 9-5 is sucking all the creative energy out of you.
You don't love cooking and you are not a recipe creator.
You know you need multiple opt-in freebies and powerpoints because have key lead magnets is the fertilizer in your business.
You want to teach your client how to have a life full of energy but you don't have the recipes, the guide and a complete program to give them.
If you are ready to TEACH a healthy way of life but you don't have all the pieces ready to launch.
You know you don't have the time to make recipes and calculate the net carbs and calories or design a whole strategy behind the launch.
You need a program for your 1:1 coaching business or a program to run online or offline.
The 21 Day Eat for Energy™ Program is not for everyone.
If you have the time to write an epic program
Mastered the art of content creation, sales funnels, writing sales page and making social media images and captions that captivate.
Have a healthy and growing list of 10,000 and make 10k a month unless YOU WANT to UPLEVEL for a mastermind, retreat, membership…
….then the done for you 21 Day Eat for Energy™ Program is not for you.
It's time for you to get smarter and focus on YOUR health coach business, rock your clients' lives, and engage with your ideal clients.
21 Day Eat for Energy™ is designed for you to take back control of your business and dreams, not the other way around!
**NOTE: Recipes in this program are Omnivore**
Get ready to empower your clients with the 21 Days Eat for Energy Program. Let's be honest, you started this journey to change lives, but are you doing that now? Or are you being overwhelmed by the sheer number of hours and energy it takes to come up with programs that really provide value to your beloved tribe? This program is THE ULTIMATE WEAPON to have in your arsenal when your clients want results and want them now. So what's stopping you from giving them what they are asking YOU for?
Give your clients the opportunity to reclaim their energy and the ability to do what they love while boosting your sales and your confidence in your business.
Health coach, we are talking about a fully optimized program that will make you moolah all the while giving you the freedom to network your business both online and offline!
The real question is what are you going to do with all that time you regain after using the 21 Day Eat for Energy™ Health Coach Program?
Offline networking
More time to cater to your clients
More freedom to live your life and spend time with your loved ones
This program is ready to go, to help you start making a profit now.
No spending hours studying the good or bad effects of every single food.
No wasting money trying to get a personalized program written.
Not a minute wasted while you try to balance a full-time job, a family, and a coaching business.
Start making continuous income today, and focus on what you do best.
Coach, I made the 21 Day Eat for Energy™ program because I was tired of seeing great coaches like you waste hours trying to put together a program your clients would love. You've got better things to do! Get out there and COACH.
That's not the only reason I made the 21 Day Eat for Energy™, sister. I made it for your clients. They WANT this program. Who doesn't want to have the energy to go to the gym, hang out with the ones you love and work on your passions?
Clients these days are SMART. They want info-packed materials, delicious recipes, and NO FLUFF. That's what this is all about – getting them the details they need and making it as simple as possible for them to succeed, step by step.
21 Day Eat for Energy™ Program.
Turn your clients into energetic and healthy fat burning machines.

How much time do you actually spend researching, writing, marketing, and managing your programs, Coach? Do you tend to lose focus because of how overwhelming it is?
Would you like to have that time back for 1:1 consultations, attending events, hosting workshops, or even just grabbing a cup of tea with a friend?
Give yourself a break. This program has everything you've been looking for: Delicious recipes, a guide packed with valuable, and igniting information, and so many more goodies for your business!
It's also your ticket to an afternoon off, a booked schedule, and clients who keep coming back because they can see and FEEL the results.
Help your clients get their groove back!
21 Day Eat for Energy™
A Done-For-You Program For Health Coaches
Building a business alone is hard. Building a business with support is NOT.
This program is your…
Business-boosting moneymaker, packed with info you can trust and materials that are professional and polished
Client-pleasing, time-saving, program loaded with all the recipes and marketing materials you need to wow your clients
Perfect for pitching to gyms, doctors offices or helping your clients go from exhausted to super charged
THE Perfect tool for online and offline success as a rockstar health coach.
Your client is tired: Physically and Emotionally. Exhaustion is the lead lady in her life, maybe she's depressed too because she's inevitably also gaining weight. She can't go the gym, no energy to even prep her meals so she takes out. A never-ending cycle.
She wants something that makes sense to her. Can you enlighten her? Can you change her into a motivated, fat killing machine?
Coach, you can. Launching a program based on the latest research is hard work, but you can do it. You've got the materials – they're right here.
Be there for her. Be the coach who knows what she needs, and understands her struggles. YOU HAVE THE PROGRAM TO HELP HER SUCCEED. She'll be back, with friends.
You've got this. I've got your back.
Get Immediate Access to what's inside the 21 Day Eat for Energy™ Program:
For Your Clients …
Give your clients great value and take all the credit, because everything is copyright-free and yours to claim:
21 Day Eat for Energy™ Guide

(Value $3000)

with a stylish design and professional feel, this guide is loaded with all the info your client needs to make it through the program. They'll appreciate your knowledge and be wowed by your expertise and professional look!
Omnivore Recipe Guide

(Value $10,850+)

: comes with 31 delicious recipes. This is a resource your clients will absolutely love. They will get mouthwatering and healthy recipes that are easy to make and easy to follow. It comes with a gorgeous, professionally styled cover.
Energy Foods Cheat Sheet

(Value $50)

helping your clients understand which foods will give them the boost that they need to go throughout the day.
3 Weeks of Suggested Meals and Shopping Lists

(Value $1200)

So many people struggle with weight loss because they don't know what to eat or they get hung up at the grocery store. Take the stress away from your clean eating life with these easy to use suggested meals and shopping lists. They'll learn one of the most important skills: where and how to shop (one less excuse!). And they'll learn how to put it to use the right way, making healthful, balanced meals. And we compiled them all in one easy to print document!
Food diary

(Value $100)

: Beautifully designed to keep your client on track to a clean lifestyle, this one is a client favorite every season!
Welcome letter

(Value $100)

: The perfect way to say hello, this email is a gentle introduction to the program that your clients will appreciate. Win their hearts on day one.
A Daily Schedule

(Value $150)

to help you stay fueled and lessen any overwhelm.
3 Gorgeous Handouts

(Value $105 @ $35/ea)

Balancing Blood Sugar for Energy
Digestive Health for Energy
Vitamin D and Energy
Value
TOTAL VALUE FOR YOUR CLIENT: $15,555+!!
PLUS, you get everything you need to set up a success signature, gateway or low-end offer to get clients and make money!
For Your Business …
And it's not just your clients who get great benefits – your business gets the boost it needs to make killer sales and get your name the visibility it deserves!
A PPT Presentation Package with Script.

(Value $2,520)

Imagine only needing to rehearse your talk for a webinar, workshop, or live community event. Your job is just to show up and give a talk with the perfect slides, script, and handouts. They're right here, fully-scripted and ready for your brand.

PowerPoint #1: 5 WAYS TO INCREASE YOUR ENERGY

Script to make it easy to rock this powerpoint
Handout for your clients
2 Promo images to promote
A beautifully designed flyer ready to roll with this presentation.

PowerPoint #2: MEDITATION: HOW TO BOOST YOUR ENERGY

Script to make it easy to rock this powerpoint
Handout for your clients
2 Promo images to promote
A beautifully designed flyer ready to roll with this presentation.
Super Fly Social Media Package

(Value $1,870)

: You don't have to become a pro at social media overnight. With this package, you are ready to rock out in all the social media madness.

20 Social Media Images professionally designed by my social media manager to highlight and promote your program across all of your platforms
10 marketing Images professionally designed to help you promote on Facebook, IG, Pinterest and blogs.
A Fabulous Flyer you can place on multiple platforms.
Paypal buttons expertly designed to make you look like the PRO Health Coach that you are.
5 Tweets & 2 Facebook posts ready to be plugged into your preferred automation tool. Imagine having social media on cruise control!
Business resource guide

(Value $497)

packed with everything I wish I'd known when I first started coaching. Save yourself hours of work and effort with these helpful resources.
4 Blogs with photos

(Value $400)

Use these blogs for newsletters, blogs posts and high-value post that you would boost on Facebook. Give a CTA (call to action) to join your program. Content is King and Queen.
Group Coaching Facebook Engagement Guide

(Value $1000)

: The materials you need to find an audience, market your program, and launch effortlessly are right here. Save yourself hassle (and cash). This guide is your personal business coach, and it's packed with everything you need to get a taste of what a successful launch feels like.
Coach's Manual

(Value $1000)

: Give your business the organizing mojo it needs to kick it into high gear and launch like a seasoned pro!
A CONVERTING sales page, written by a professional copywriter

(Value $1,000+)

: Some people have a way with words. They know how to place them, exactly what to say, and how to evoke emotion. The end result? Higher sales. You may or may not be this someone. But that's A-OK! Because this sales page was crafted by one of my top copywriters and is designed to attract and sell your 21 Day Eat for Energy™ Program to your ideal clients. No more posting a page and hoping it works. This one WILL.
Two Opt-in Freebies

(Value $3540)

To start gathering prospects, grow your email list and flush them into your sales funnel.

Guide #1: 5 WAYS TO BETTER SLEEP TO SUPERCHARGE YOUR DAY

2D and 3D covers
Opt-in Sales Page
Thank You Email
2 Banners
1 FB Ad-size Image
Handout to give your clients in a free workshop or in a follow-up email

Guide #2: TOP SUPPLEMENTS TO BOOST YOUR ENERGY

2D and 3D covers
Opt-in Sales Page
Thank You Email
2 Banners
1 FB Ad-size Image
Handout to give your clients in a free workshop or in a follow-up email
A High Definition Collage

(Value $445)

to feature fabulous new program across all avenues and market your program in a high impact way
6 Support emails

(Value $600)

to nudge your email list from prospect and onlooker all the way to Happy and Dreamy Client!
6 Pre-marketing emails

(Value $600)

that you can easily plug and play. These will make you an authority in the field and build tons of trust within your community.
2D & 3D Product Cover

(Value $100)

to present your program to the world like the professional health coach that you are!
Price Guide to help you price out your online and offline program (Value $75)
Kick off and Wrap up Powerpoints with play-by-play scripts

(Value $2520)

: Get your new program off to an unbeatable start with the right kick-off webinar or live presentation, and close it just as strongly. Fully scripted, these two presentations offer a quick way to skip stage fright and make a professional, positive and lasting impression
15 Tech tutorials

(Value $1500)

, because not everyone is a tech whiz. If you're like me and struggle to get new gadgets, tools, and apps to work, these tech tutorials are life savers. They'll walk you through each step and save you hassle, effort, and a boatload of frustration.

How to use Dropbox
How to edit your TOC
How to swap Covers
How to edit your TOC in MAC and edit footers on all computers
How to Swap Covers on your documents
How to start a FB Biz Page
How to PDF your Powerpoint Presentation for Offline Clients
How to edit your Docs and turn into a PDF
How to post Directly on your FB Page
How to create a cover in Canva
How to Create a FB Group and Pin a Post
How to make a Bitly Link
How to create a PayPal button and LInk to Mailchimp
How to use PicMonkey
How to use Adobe Spark.
Value
TOTAL VALUE FOR YOUR BUSINESS: $17,667!!
And coach, those aren't just numbers.
My amazing team of 2 copywriters, 3 graphic designers, 2 editors, and 2 VAs worked around-the-clock to bring you this kickass clean eating program.
Those values above? That's how much each item cost to create.
TOTAL VALUE FOR YOUR BUSINESS: $17,667
TOTAL VALUE FOR YOUR CLIENT: $15,555+
TOTAL PROGRAM VALUE: $33,222+
You get all this for ONLY $397
Coach, running a business is HARD WORK.
Every year, you have to master new skills, come up with new materials, and find a way to set yourself apart from the rest. The skills you learned in school just aren't enough.
YOU NEED NEW TECHNIQUES. FAST.
You've got to innovate.
I want you to be the health coach you've always dreamt of. You can make your mark on the world., You just need the right tips and tools to do it.
It's time to step up your game, sister.
Work Your Mojo ON AND OFFLINE!
Smash the box, coach. It's time to reinvent the way your practice runs. Let your creativity flow, and you'll find all kinds of ways to find new clients and keep old ones coming back for more.
Coaching is the HOTTEST industry right now. You KNOW the competition is stiff.
What if there was a simple solution?
It's all been done for you already – the research, the planning, the writing and the designing – all you need to do is sell it and reap the rewards. The best part? You can get started with just the click of a button.
Here are a few ways to set yourself apart OFFLINE (but DON'T stop with this list, sister – keep brainstorming!):

Host a workshop at your home. Serve some fun and healthy treats and make it a life-changing night for all. Sell your 21 Day Eat for Energy™ Program to everyone in the room!
Launch the 21 Day Eat for Energy™ and insert your favorite products into it to diversify your income.
Use the 21 Day Eat for Energy™ Program as a gateway program to help you sell your fave products and even upsell to another, longer program
Combine the 21 Day Eat for Energy™ program with the services of a personal chef, massage therapist, gym, spa, or naturopath for a kickin' program that drives sales for all of you.
Host a group retreat based on 21 Day Eat for Energy™ program and SHOW your clients how simple and rewarding this diet is
Build a lengthier program for your clients using 21 Day Eat for Energy™ program as the base by just REPEATING the process – add more weeks or months for a quick and easy upsell.
Looking for tips on rocking the health coaching world ONLINE? These can get you started, but DON'T stop here. Keep innovating!

Host your own 21 Day Eat for Energy™ class online – first come, first serve! Record it live or upload it to YouTube…or BOTH!
Create YouTube videos on 21 Day Eat for Energy™ program and teach viewers how to get healthy, then offer the program as an upsell.
Run a FREE healthy lifestyle challenge to build your list
Sell access to exclusive, paid 21 Day Eat for Energy™ workshops online
Combine another program with 21 Day Eat for Energy™ for your own spin on this amazing diet
Sell the recipes and suggested meals as digital products, then market your new list higher-end products (like the FULL program!) they'll LOVE.
GIVE YOUR CLIENTS THE BOOST THEY NEED, WHILE BOOSTING YOUR BUSINESS FOR LIFE.
This program is packed with the materials you need to get back a little free time in your day and recapture a little work-life balance. You'll be ready for online and offline events, group coaching, webinars, workshops, challenges, 1:1 coaching – you name it.
More importantly, you'll have a system and the support you need to rock it.
If you're tired of programs collecting virtual dust on your computer, get ready for a change. Too often, health coaches buy a program (or twenty), but don't get advice or support to help them rock it. I hate that. You're investing your time and money in these programs, and it's my job to make sure you see the value you deserve, coach.
The system you're getting is mine. It's what I used to rock my own business to multiple six-figures, and I've helped 8,500+ coaches uplevel their businesses, too. It works.
It works because you get more than just materials – you get access to an exclusive group of like-minded coaches who are headed down the path to success with you. Ever run a race, Coach? It's easier to go the distance when you're not alone. We're in this together.
You also get access to my team and me. We're in the Facebook forum with you, answering questions, giving advice, listening to your concerns, and helping you rock your business. It's what we live for.
This is not a cookie-cutter program that you'll have to pay hidden royalties for or wind up needing a thousand add-ons to make it work. You get everything you need to rock an amazing adrenals program: guides, recipes, newsletters, blogs, PowerPoint presentation, session notes, you name it…I've pulled out all the stops. There are NO hidden fees; everything is COPYRIGHT FREE.
But Coach, there's one thing I haven't given you. Mojo. You've got to add your own. Go rock it!
My name is Rachel Feldman
I created this program for you because I know what a challenge it can be to introduce your clients to new concepts, new ideas, new ways to boost, supplement and complement their health, while completely avoiding those programs that don't educate them properly.
Isn't it about time you started seeing some real returns on your Health Coach business? Grab this opportunity to get your business growing right now and enjoy the rewards of a wise investment.
When you buy this program, say hello to:
More freedom to enjoy your life because the hard work is done for you
More clients to use your program because they'll have everything they need to get started and hire you
More cash to finally live your dream life because freedom and money go hand in hand
When you buy this program, say goodbye to:
Lost time trying to gather all this information for yourself
Investment loss because you deserve to have your investments turn into profit
Stress because everything, and I mean everything, is absolutely done for you
TAKE YOUR CLIENTS' HEALTH AND WELLNESS TO THE NEXT LEVEL TODAY.
They deserve it, and so do you!
There are other ways to use this program, too. But don't take my word for it. Let's see what other coaches like you have to say:
I sold 20 summer detoxes and made $1660
I started out as a health client in 2011 and worked with Rach for 4 months to lose 15 pounds!! Then when I graduated from IIN, I started Fearful to Fit and purchased Rach's DFY programs. From just this year, I sold 20 summer detoxes and made $1660, then on a whim, sold 11 paleo detoxes and made $917 for a grand total of $2,577!! I followed the advice and suggestions, put my own spin on it and voila! Can't wait to offer more in 2017!
JJ Muenz
Rachel's programs look incredibly professional.
When I was first starting out, I didn't know where to begin. It was a blessing to find Rachel and her team. Her programs got me out there and the support in the forums is priceless. I sold 35 Spring Cleanses & rolled 4 clients into my transformation program, generating more monthly income & boosting my confidence!! Rachel's programs are not only are they put together with thought and care, they look incredibly professional.
Trish Ward
Get your Health & Wellness Business off the ground right here, right now for $527.
BUY IT. BRAND IT. LAUNCH IT.
What happens when you buy?
I'll send you an email with your private membership access to download your materials. All you have to do is edit as little or as much as you'd like, launch, and sell your done-for-you program. It's that simple! If you've got questions, you'll also get access to my support group for any health coach who has ever purchased a Done-For-You Program.
It's your turn to get clients and get paid.
SAY yes to SALES and CLIENTS.
Buy It and Got For It!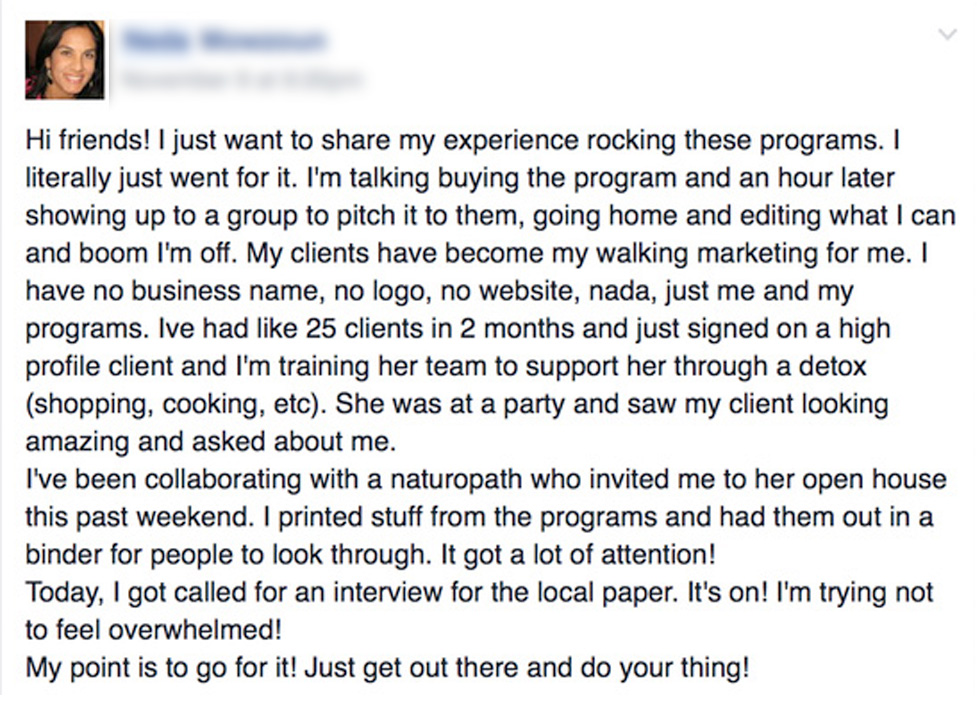 Neda - Facebook Comment
I've learned the importance of showing up.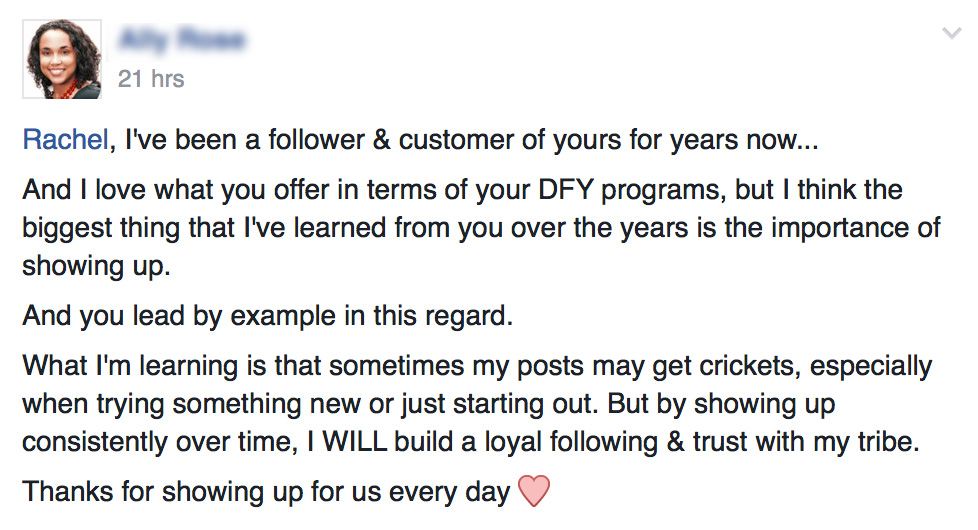 Ally - Facebook Comment
Hey, freedom-searching coach. I'm Rachel Feldman; long-time Health Coach turned Business Niche Coach.
I'm the bold, brazen creator of the Health Coach Done For You Programs. I graduated from the Institute for Integrative Nutrition in New York City, Wild Rose Natural College of Healing, the International School of Detoxification and Natalia Rose Advanced Detox Certification Training. I've been featured in Florida Man and Woman magazine, Mind Body Green, Williams & Sonoma blog, Ripe & Ready, The Huffington Post, Thrive Global, Forbes, and many others. I am also a featured business educator at the Hippocrates Health Institute.
For years, I struggled with chronic health issues. While digging into the root cause of my own health struggles, I discovered the power of clean eating and detoxing. Clean eating and detoxing became the foundation for my own health transformation, and also the core of my own health coach practice and the Done For You Programs. After building my health coaching business from bare bones to six figures, I expanded my mission to help new coaches follow suit and create their own thriving success. I created these programs for health coaches so they could spend less time creating and more time coaching clients.
To date, I've helped over 8,500 coaches finally turn a profit, book more clients, and sell out programs of their own. I am beyond passionate about creating a world with less sickness and more happiness, whether I'm behind the scenes helping other health coaches spread their message and their work with the Done For You Programs or coaching clients how to launch the programs and their business successfully. Even though I'm always on the go, teaching, speaking on podcasts and summits, I always make time for a green smoothie, chocolate at noon, and a cuddle session with my hubby and kids.
I'm here to give you REAL TOOLS to build a business that gives you FREEDOM.
So prepare yourself, coach. I'm ready to reveal every juicy detail of my business success story AND help you crush it online and offline.
Do you still have questions? Please check the FAQ page for answers to common questions.
REFUND POLICY: Due to the nature of a downloadable product, we do not issue refunds. If you have questions about what product is right for you, please fill out the contact form. Thank you for understanding and we look forward to supporting you. To read the full disclaimer and FaQ's, please visit https://yourhealthcoachbiz.com
Be an Affiliate
Want to be an Affiliate? Sweet. You can rock the ripple effect and share the love with another wellness professional. Join our affiliate program and receive a referral for rockin' the ripple effect and helping another wellness professional start their business with the right tools and the right community support.
Click here to join the affiliate program.
IMPORTANT NOTICE: Your use and purchase from this site signifies your agreement with my Terms & Conditions and Product Disclaimer. If you do not agree with my Terms & Conditions and Product Disclaimer, please do not buy this product and close this website.
21 Day Eat for Energy™ by Rachel Feldman is licensed under a Creative Commons Attribution-NonCommercial-NoDerivs 3.0 Unported License. RE-SALE OF ALL PROGRAM MATERIALS IS PROHIBITED.