Start Building Your List Today! BUY NOW
Hey, Health Coach! Are you ready to build your list and grow your business?
Do you want to run a happenin' online challenge with dozens or even hundreds of peeps?
Do you need a Done For You Opt-In that looks FRESH so you can show up online like a PRO?
Welcome to list building, baby.
The nuts and bolts of your business
The best way to build your list is to give your potential clients something of VALUE for F-R-E-E.
I can't think of a better way to do that than with a beautifully designed e-Guide loaded with deliciousness, hot off the press.
Imagine hundreds of followers clicking on your website and your social media platforms, entering their email, and BAM downloading a 14 Day Smoothie e-Guide + 3 Days of Clean Eating Suggested Meals with YOUR NAME ON IT.
14-Day Smoothie e-Guide + Bonus: 3 Days of Clean Eating Recipes.
Meet every stressed out, struggling for time, jugglin' Health Coach, CEO/Solopreneurs business fantasy…
A fresh lookin' e-Guide that lures in your potential clients with mouth- watering recipes, smoothies that make creating a healthy lifestyle SUPER EASY, and tips to get them rollin'.
Time-saving shopping lists, because let's face it, people are hella busy in this fast paced world.
An irresistible 3D cover because you deserve to knock their socks off with a professional first impression.
A beautiful welcome letter to begin the start of your client-coach relationship in style.
A trust-building follow up letter to check in and CONVERT your free followers to paid clients. Cha-Ching!
3 GORGEOUS banners to use in your email headers, your Facebook events, and your Facebook challenge groups. (Seriously, when I say Done For You I truly mean it!)
A guaranteed to CONVERT sales page written by my own word slingin' copywriter.
Badda Bing! Badda Boom!
There you have it, your Done For You foot in the door to

S-U-C-C-E-S-S

and

G-R-O-W-T-H.
It has been proven conversion rates happen when you have great content and give awesome support to clients.
Now you have the tools to build your online and offline practice using the 14-Day Smoothie challenge + 3 Days of Clean Eating Meals.
What's included
aside from your KEY to gaining LUCRATIVE STATUS? I'll tell you.
For Your Client …
Your clients get all of this with YOUR name on it because I only put out COPYRIGHT FREE business building goodies:
A step-by-step 14 Day Smoothie e-Guide loaded with healthy lifestyle tips, scrumptious recipes for all 14 days of the smoothie lovin' madness, PLUS 3 entire days of clean eating suggested meals (breakfast, lunch, and dinner). Too good to be true, but it's real, and it can be all yours with one click.
A simple and easy to follow shopping list because nobody has time in today's world to take pen to paper and write a shopping list. Everything is GO GO GO! Now the planning is done for you. PERK: Your clients save time because of you, and you save time creating it for them. WIN.WIN.
For Your Business …
Your badass business gets all of this because honey, when you do it, you need to do it well:
An effective and concise sales page with just enough spark and flare to rock this baby out on Eventbrite, Weebly, Wix, WordPress or a Facebook event. Guaranteed to convert.
A heartwarming welcome letter you can plug 'n play in MailChimp, AWeber, or whatever software you choose, psht – you can even print this baby and hand it in person because this ENTIRE challenge can be done in person too (gyms, spas, wherever, whenever, you choose.)
MailChimp Made Easy Classes – 4 Mini Master Classes teaching you how to use MailChimp like a Pro, without pulling your hair, which means you can launch this challenge wth ease.
A step-by-step tutorial on how to set up a Facebook event and start a Facebook group so that you can INVITE and BUILD YOUR LIST.
A FLY LOOKIN' 3D e-Guide cover for marketing your Opt-in Freebie, because you have to make them look to hook them.
Three ready to roll out BANNERS to upload to your Facebook Event, your Facebook Group, and your newsletter header.
Why wait to get the exposure you need? Give your crowd exactly what they want and need, TODAY.
Truth be told: If you don't give it to them, someone else will.
Buy it. Brand it. Launch it.
What happens when you buy?
I'll send you an email with your private membership access to download your materials. All you have to do is edit as little or as much as you'd like, launch, and sell your done-for-you program. It's that simple! If you've got questions, you'll also get access to my support group for any health coach who has ever purchased a Done-For-You Program.
It's your turn to get clients and get paid.
SAY yes to SALES and CLIENTS.
Buy It and Got For It!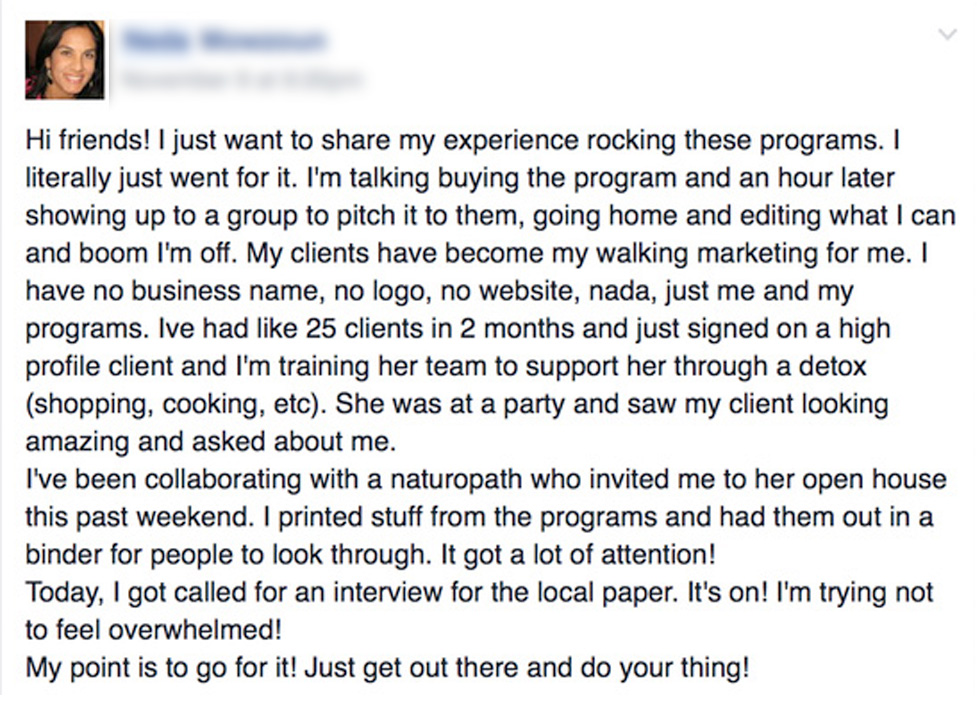 Neda - Facebook Comment
I've learned the importance of showing up.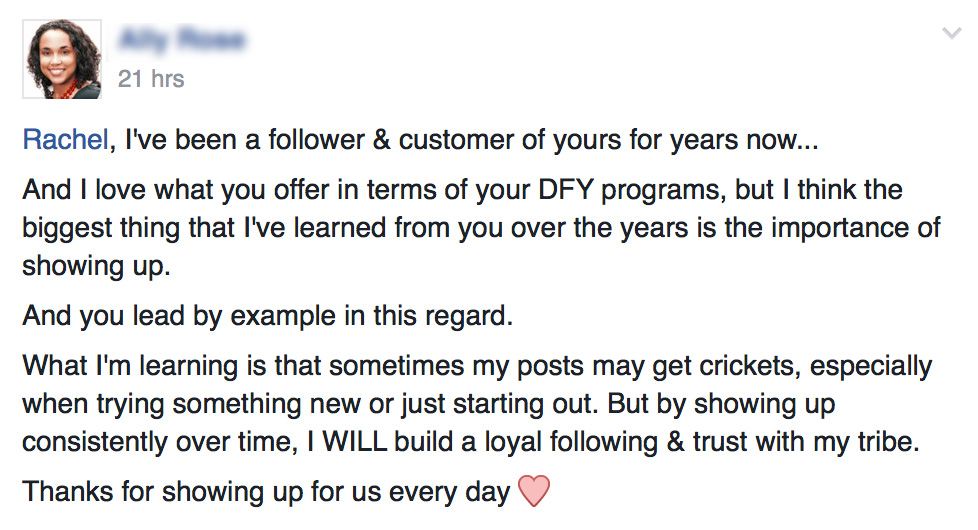 Ally - Facebook Comment
Hey, freedom-searching coach. I'm Rachel Feldman; long-time 6-figure Health Coach turned Business Niche Coach.
I'm the bold, brazen creator of the Health Coach Done For You Programs. I graduated from the Institute for Integrative Nutrition in New York City, Wild Rose Natural College of Healing, the International School of Detoxification and Natalia Rose Advanced Detox Certification Training. I've been featured in Florida Man and Woman magazine, Mind Body Green, Williams & Sonoma blog, Ripe & Ready, The Huffington Post, Thrive Global, Forbes, and many others. I am also a featured business educator at the Hippocrates Health Institute.
For years, I struggled with chronic health issues. While digging into the root cause of my own health struggles, I discovered the power of clean eating and detoxing. Clean eating and detoxing became the foundation for my own health transformation, and also the core of my own health coach practice and the Done For You Programs. After building my health coaching business from bare bones to six figures, I expanded my mission to help new coaches follow suit and create their own thriving success. I created these programs for health coaches so they could spend less time creating and more time coaching clients.
To date, I've helped over 8,500 coaches finally turn a profit, book more clients, and sell out programs of their own. I am beyond passionate about creating a world with less sickness and more happiness, whether I'm behind the scenes helping other health coaches spread their message and their work with the Done For You Programs or coaching clients how to launch the programs and their business successfully. Even though I'm always on the go, teaching, speaking on podcasts and summits, I always make time for a green smoothie, chocolate at noon, and a cuddle session with my hubby and kids.
I'm here to give you REAL TOOLS to build a business that gives you FREEDOM.
So prepare yourself, coach. I'm ready to reveal every juicy detail of my business success story AND help you crush it online and offline.
Do you still have questions? Please check the FAQ page for answers to common questions.
REFUND POLICY: Due to the nature of a downloadable product, we do not issue refunds. If you have questions about what product is right for you, please fill out the contact form. Thank you for understanding, and we look forward to supporting you. To read the full disclaimer and FaQ's, please visit https://yourhealthcoachbiz.com
Be an Affiliate
Want to be an Affiliate? Sweet. You can rock the ripple effect and share the love with another wellness professional. Join our affiliate program and receive a referral for rockin' the ripple effect and helping another wellness professional start their business with the right tools and the right community support.
Click here to join the affiliate program.
IMPORTANT NOTICE: Your use and purchase from this site signifies your agreement with my Terms & Conditions and Product Disclaimer. If you do not agree with my Terms & Conditions and Product Disclaimer, please do not buy this product and close this website.
14-Day Smoothie Challenge by Rachel Feldman is licensed under a Creative Commons Attribution-NonCommercial-NoDerivs 3.0 Unported License. RE-SALE OF ALL PROGRAM MATERIALS IS PROHIBITED.
SaveSave