Get ready to meet your business's best friend. BUY NOW
7 Day Ketogenic Jumpstart Program Starter Kit™
Done For You Ketogenic Program for Your Health Coach Biz
FAST TRACK YOUR CLIENTS INTO THE KETO LIFESTYLE, JUMPSTART YOUR SALES, GROW YOUR TRIBE, WITH THE ABILITY TO OFFER BIGGER PROGRAMS – ALL IN ONE SINGLE PUNCH!
Do you know and respect the heck out of David Asprey? Mark Sisson? Terry Wahls?
They ALL talk about ketogenic diets, and with good reason. If your clients are athletes, need energy, are trying to lose weight, or face autoimmune or sugar issues, there's a reason to go ketogenic.
But who wants to spend weeks creating a new program instead of interacting with your clients, getting that exposure you need, and staying on top of the latest research?
Coach, let's be honest. No one.
Get ready to meet your business's best friend. 7 Day Ketogenic Jumpstart Starter Kit! A GATEWAY program based on the teachings of going Ketogenic the right way.
This program is right for you if…
You are passionate about the ketogenic life or weight loss or gut health or autoimmune.
You want to teach your clients the #ketolife, but you don't have the recipes, the guide and a complete program to give them, or are feeling completely burnt out from spending hours trying to create these.
You are ready to TEACH the Ketogenic way, but you know NOT everyone knows what "ketogenic" means, which is why you need a STARTER program that will rock foundations and break any doubts.
You know you don't have the time to create Keto recipes and calculate the net carbs and calories and then design the Recipe Guide, do the macro sheet or spend the moolah on having the program designed for your clients download.
Create a solid Keto Funnel: 7 Day Ketogenic Starter Kit upsell to 1-1 or next program [30 Day Keto Made Easy] – upsell to 1-1 or next program [Transition Stage] – 6 Week Sugar Repair, 4 Month Reboot, 3 Month Mindset Makeover, 3 Month Eat with Intention!
**NOTE: Recipes in this program are Omnivore and not dairy-free**
There's a reason your clients AND the teachers you trust are screaming for keto. The ketogenic diet is science-based. And it has been proven to work in several studies. Point Blank: IT DELIVERS RESULTS.
From cholesterol to weight and sugar, your ketogenic made easy program can help tackle some of today's toughest challenges our clients face.
You can transform into the hero your clients need right now, to fight off obesity using the amazing fat burning process called ketosis, educating them on how the body adapts to the keto diet and helping them obtain the energy they've always yearned for!
Coach, I made the 7 Day Ketogenic Jumpstart Starter Kit Program program because I was tired of seeing great coaches like you waste hours trying to put together a GATEWAY keto program your clients would love. You've got better and OTHER more important things to do!
That's not the only reason I made 7 Day Ketogenic Jumpstart Program, sister. I made it for your clients. They WANT this program.
Keto diets are all the rage, but it can be a headache to wade through the info and try to find out what to do, how, when, and why.
Clients these days are SMART. They want info-packed materials, delicious recipes, and NO FLUFF. That's what this is all about – getting them the details they need and making it as simple as possible for them to succeed. It's about getting them the results they are dying for!
The 7 Day Ketogenic Jumpstart Starter Kit is ready for you.
The Simplest Way to Start Your Clients on a Keto Diet
How many hours do you spend researching, writing, marketing, and managing your programs, Coach?
Would you like to have that time back for 1:1 consultations, attending events, hosting workshops, or even just grabbing a cup of tea with a friend?
Give yourself a break. This program has everything you've been looking for. Built on the teachings of Mark Sisson, David Asprey, and Terry Wahls, it's the perfect intro to keto for your clients.
Most of us have been there: Spending tons of time and energy on creating, creating, creating and not enough time on building your brand. And the truth is that out here, Coach, people buy programs because of WHO YOU ARE. THEY WILL NEVER KNOW ALL THE TIME ENERGY SPENT BEHIND THE SCENES.
7 Day Ketogenic Jumpstart Program™
Full Pay
$197
CLICK HERE for payment plan 3 x $66

Building a business alone is hard. Building a business with support is NOT.
This program is your…
Use this in your 1-1, list building strategy, or create a keto system starting with this gateway program.
Gateway Program, Signature Program, List Builder or Business-boosting moneymaker, packed with info you can trust and materials that are professional and polished.
Client-pleasing, time-saving, keto program loaded with all the recipes and marketing materials you need to wow your clients and deliver the results they've all been waiting for.
The Perfect Jumpstart program for JV's with gyms, doctors offices or a great gateway program for building trust with clients to lead them into your funnel. Very few will ever find success in JUST online business. You gotta get out there, adapt and be flexible – it's time to build your empire with all the proper foundations.
She does everything right: She exercises. She diets. She even eats clean. She may have a strong autoimmune. But no matter what, she's low on energy, can't shed those clingy pounds, and she's on the verge of throwing in the towel.
Don't let her! You can giver the glimmer of hope that will change her life forever – THE KETOGENIC DIET.
Coach, it is your life's mission to help her and many other clients like her. Launching a program based on the latest research is hard work, but you can do it. You've got the materials – they're right around the next click!
Be there for your clients. Be the coach who knows what they need, and has the program to help them succeed with autoimmune, weight loss and having more energy.
You've got this. I've got your back. Build your tribe!
WHAT'S INCLUDED IN THIS PROGRAM:
For Your Clients …
Give your clients a great program and take all the credit, because everything is copyright-free and yours to claim:
The 7 Day Ketogenic Jumpstart Guide with a professional design and stylish feel, this 20-page guide is loaded with all the info your client needs to begin the transition into a ketogenic lifestyle – from what not to eat to what to keep in their pantries. All the information you need to help them lose weight, boost immune, and have more energy.
4 Rocking Handouts


Best Keto Powders and Supplements
How to Make the Perfect Keto Plate
Daily Keto Schedule
Keto Checklist
Recipe Guide: 28 recipes with macros and net carbs for all recipes. Give your clients a taste of healthy living, one delicious bite at a time. A professional chef crafts each recipe and based on the guidelines of the ketogenic diet. They'll taste sinfully good, but be great for your clients' wellness. No need to get scared of planning, everything is laid out.
1 Week of Shopping Lists, allowing your client to shop without stress. We did the work for you.
7 Days of suggested meals: You've given them the recipes they need to thrive and the shopping list to get the goods. Now you can also show your clients how to craft the perfect Keto Plate and how to change it up if they desire and still be under 20-21g of net carbs per day.
A Macro and Net Carb Breakdown  of the week at a glance – making it easy for you to teach the Ketogenic life and how to calculate net carbs – in case your client wants to switch it up
PLUS, you get everything you need to set up a success signature or gateway offer to get clients and make money!
For Your Business …
And it's not just your clients who get great benefits – your business gets the boost it needs to make killer sales and get your name the visibility it deserves!
Opt-in Freebie #2: How to Eat Out Keto without Losing Your Mind (14-page freebie)

Cover to promote your Opt-in
Opt-in Sales Page
Thank You Email
Banner
FB Event Cover
6 pre-marketing emails to prime your existing list. A captive audience is a terrible thing to waste. If you have a list of email subscribers who would benefit from Ketogenic Made Easy, this list will get them ready to buy before you even launch.
3 support emails to handhold your clients through the entire keto process. We all know the start can be rough on keto, but these messages deliver the right message to keep them working hard towards health and on course for great results!
10 Social Media Images  to entice and peak interest across all platforms. You can use these to promote your keto program or even the modules.
10 Blogs:  We did the writing for ya! No more spending time doing something that may or may not be your passion. Just plug these onto your website, automate your marketing and promote!
2 FB post and 5 Tweets, so you don't have to worry about hiring a copywriter.
A kickass sales page, written by a professional copywriter : This sales page was crafted by one of my top copywriters and is designed to attract and sell your 7 Day Ketogenic Jumpstart Program to your ideal clients. No more posting a page and hoping it works. This one WILL.
A Thank You Email : to break the ice with your new clients and introduce yourself to them for a long lasting relationship.
Kick off and Wrap up Power points with play-by-play scripts: Get your new program off to an unbeatable start with the right kick-off webinar or live presentation, and close it just as strongly. Fully scripted, these two presentations offer a quick way
You get all this for ONLY $197
7 Day Ketogenic Jumpstart Program™
Full Pay
$197
CLICK HERE for payment plan 3 x $66

Every year, you have to master new skills, come up with new materials, and find a way to set yourself apart from the rest. The skills you learned in school just aren't enough.
YOU NEED NEW TECHNIQUES. FAST.
You've got to innovate.
I want you to be the next celebrity health coach. You can make your mark on the world., You just need the right tips and tools to do it.
It's time to step up your game, sister.
It's time to reinvent the way your practice runs.
Let your creativity flow, and you'll find all kinds of ways to find new clients and keep old ones coming back for more.
Coaching is the HOTTEST industry right now. You KNOW the competition is stiff.
What if there was a simple solution?
Here are a few ways to set yourself apart OFFLINE (but DON'T stop with this list, sister – keep brainstorming – the possibilities are endless)
Host a workshop at your home. Serve delish keto treats and make it a fun night for all. Sell your 7 Day Ketogenic Jumpstart Program to everyone in the room!
Launch the 7 Day Ketogenic Jumpstart Program and insert your favorite products into it to diversify your income.
Use the 7 Day Ketogenic Jumpstart Program as a gateway program to help you sell your fave products and even upsell to another, longer or higher ticket program.
Combine the 7 Day Ketogenic Jumpstart Program with the services of a personal chef, massage therapist, gym, spa, or naturopath for a kickin' program that drives sales for both of you. Network, network, network!
Host a group retreat based on 7 Day Ketogenic Jumpstart Program and SHOW your clients how simple and rewarding this diet is.
Build a lengthier program for your clients using 7 Day Ketogenic Jumpstart Program
Looking for tips on rocking the health coaching world ONLINE? These can get you started, but DON'T stop here. Keep innovating!
Host your own 7 Day Ketogenic Jumpstart Program class online – first come, first serve. Record it live or upload it to YouTube…or BOTH!
Create YouTube videos on the 7 Day Ketogenic Jumpstart Program and teach viewers how to get healthy with keto, then offer the program as an upsell
Run a FREE keto lifestyle challenge to build your list
Sell access to exclusive, paid Keto workshops online
Combine another program with 7 Day Ketogenic Jumpstart Program. Sell the recipes and suggested meals as digital products, then market your new list of higher-end products (like the FULL program!) they'll LOVE.
GIVE YOUR CLIENTS THE BOOST THEY NEED, WHILE BOOSTING YOUR BUSINESS FOR LIFE.
This program is packed with the materials you need to get back a little free time in your day and recapture a little work-life balance. You'll be ready for online and offline events, group coaching, webinars, workshops, challenges, 1:1 coaching – you name it.
More importantly, you'll have a system and the support you need to rock it.
If you're tired of programs collecting virtual dust on your computer, get ready for a change. Too often, health coaches buy a program (or twenty) but don't get advice or support to help them rock it. I hate that. You're investing your time and money in these programs, and it's my job to make sure you see the value you deserve, coach.
The system you're getting is mine. It's what I used to rock my own business to multiple six-figures, and I've helped 8,500+ coaches uplevel their businesses, too. It works.
It works because you get more than just materials – you get access to an exclusive group of like-minded coaches who are headed down the path to success with you. Ever run a race, Coach? It's easier to go the distance when you're not alone. We're in this together.
You also get access to my team and me. We're in the Facebook forum with you, answering questions, giving advice, listening to your concerns, and helping you rock your business. It's what we live for.
This is not a cookie-cutter program that you'll have to pay hidden royalties for or wind up needing a thousand add-ons to make it work. You get everything you need to rock an amazing adrenals program: guides, recipes, newsletters, blogs, PowerPoint presentation, session notes, you name it…I've pulled out all the stops. There are NO hidden fees; everything is COPYRIGHT FREE.
But Coach, there's one thing I haven't given you. Mojo. You've got to add your own. Go rock it!
7 Day Ketogenic Jumpstart Program™
Full Pay
$197
CLICK HERE for payment plan 3 x $66

What happens when you buy?
I send the materials right to your inbox, and you start editing your done for you program.
Then you share, share and share.
The time is now my friend.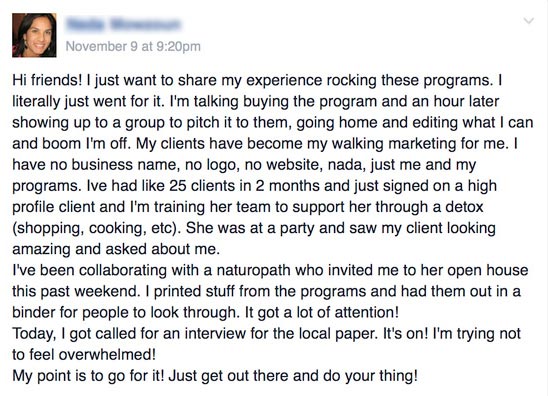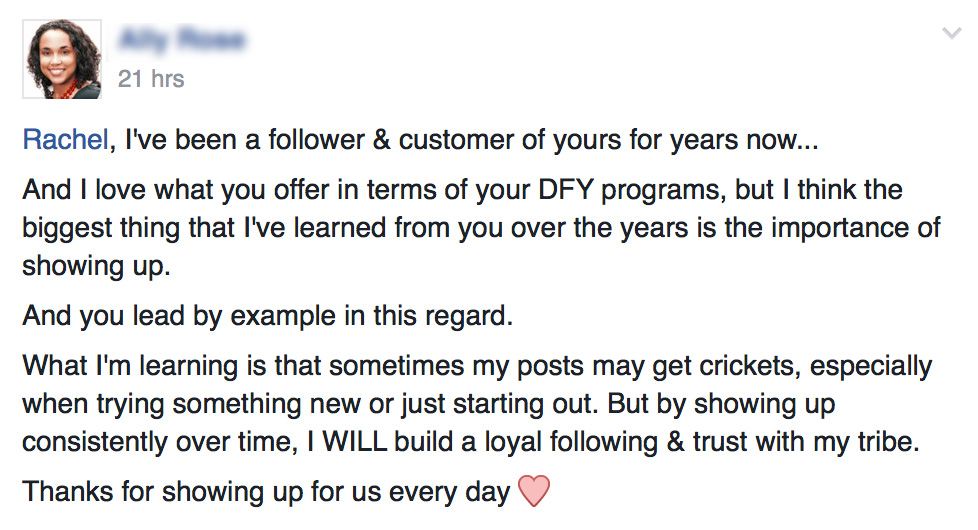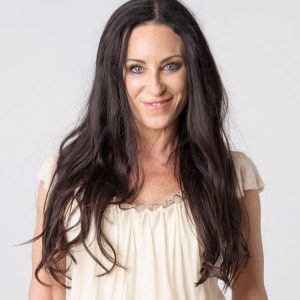 My name is Rachel A. Feldman.
I am a kick-ass business coach for health and wellness professionals, who are sick and tired of having businesses that do not attract the ideal client or when they do, they do not have a system to teach them. I help them define niche, story, backstory, a system and a leak-free business sales funnel. I had my own health struggles that lead me to be a health coach and then organically became a biz coach after my struggles and mastered my own leak free business funnel system. I went from making 13k to 6 figures by year 3 and now I am proud to say, I rock a business that feeds my soul, my spirit and my family.
Do you still have questions? Please check the FAQ page for answers to common questions.
REFUND POLICY: Due to the nature of a downloadable product, we do not issue refunds. If you have questions about what product is right for you, please fill out the contact form. Thank you for understanding, and we look forward to supporting you. To read the full disclaimer and FaQ's, please visit https://yourhealthcoachbiz.com
Be an Affiliate
Want to be an Affiliate? Sweet. You can rock the ripple effect and share the love with another wellness professional. Join our affiliate program and receive a referral for rockin' the ripple effect and helping another wellness professional start their business with the right tools and the right community support.
Click here to join the affiliate program.
IMPORTANT NOTICE: Your use and purchase from this site signifies your agreement with my Terms & Conditions and Product Disclaimer. If you do not agree with my Terms & Conditions and Product Disclaimer, please do not buy this product and close this website.
7 Day Ketogenic Jumpstart Starter Kit™ by Rachel Feldman is licensed under a Creative Commons Attribution-NonCommercial-NoDerivs 3.0 Unported License. RE-SALE OF ALL PROGRAM MATERIALS IS PROHIBITED.