LAUNCH THE MLOST TRENDING TOPIC (CBD OIL) WHEN YOU BUY THIS OPT IN FREEBIE!
–
BUY NOW
Give your clients the motivation to try something new and extremely beneficial to their health.
Address a variety of issues that are currently ravaging our society like depression, anxiety, inflammation and much more with a natural and safe solution.
Wouldn't you love to be the coach to help every client get the results they want?
This industry is tough, coach, it's time to implement new tools, new solutions and trendy programs into the mix that will make you stand out!
Let's bring the temperature up a notch and kick your marketing to high gears with this list building machine!
 THE BENEFITS OF CBD OIL™ includes:
Gorgeously crafted CBD Oil E-BOOK
Professionally designed 2D & 3D COVERS
An Irresistible OPT-IN PAGE
10 catchy SOCIAL MEDIA GRAPHICS
A juicy, irresistible OPT-IN PAGE
A beautiful WELCOME PAGE
This Done For You OPTIN FREEBIE BUNDLE will change the way you do business!
The Benefits of CBD OIL guide will give your clients a NEW STRATEGY TO HANDLE THAT NASTY INFLAMMATION OR AUTOIMMUNE STUFF.

Do you love CBD oil and want to educate your clients?
Do you specialize in mindset, gut, autoimmune or emotional eating?
You can use this list builder in so many ways:
Do a workshop
Create a video series
Give this as a gift after a webinar or class
Slap this baby on  your website and start building your list
Great content for a livestream
You need a Done-For-You Opt-In Lead Magnet that steals the heart of every client and gets them to choose you as their new coach.
WE HELP YOU TO BUILD YOUR LIST & SIGNATURE SALES FUNNEL. WE MAKE IT A WHOLE LOT EASIER.
The best way to get those dream clients is to offer an Opt-in packed with the info your NICHE needs. Then lead them to your 1-1 or online/offline group programs. Lead them to any one of our niche systems or a la carte programs to build your funnel.
Imagine a growing tribe of potential clients, all searching to get healthy, to regain control of their life and self-confidence. Imagine you owning every single email of that growing tribe and the ability to offer them the solutions they've all been waiting for.
Get ready to empower your followers with the Benefits of CBD OIL GUIDE, a value-packed, professionally designed, opt-in freebie that is almost IMPOSSIBLE TO RESIST.
Your Done-For-You List Building Freebie – CBD OIL!!!!
No more wondering if CBD oil could be the solution to many of the problems your clients have.
AND YOU NO LONGER NEED TO SPEND COUNTLESS OF HOURS WRITING AND DESIGNING AN OPT-IN. SKIP THIS PART AND GET ONTO ACTUALLY BUILDING YOUR BRAND!
THIS IS MORE THAN JUST ANOTHER HEALTHY FREEBIE. THIS IS A DONE-FOR-YOU LEAD MAGNET DESIGNED TO PRESENT OFFERS YOUR PROSPECTS CANNOT RESIST!
This is what your client gets:
Put your email collecting efforts on cruise control with this killer content. Crush it with list-building and Sales Funnel Mastery:
CBD OIL Guide: A TOP NOTCH 9 page Guide with all the key elements you need to know to teach your clients about the Power of  CBD oil.
An effective, high-converting opt-in page with just enough of that secret sauce to rock this baby out on Eventbrite, Weebly, Wix, WordPress, Squarespace, or a Facebook event page.
A heart-warming welcome letter that you can plug into MailChimp, AWeber, or whatever email automation software you choose.
Super Chic 2D & 3D e-guide covers for marketing your opt-in freebie because in order to hook 'em you gotta make 'em look!
10 social media images guaranteed to grab attention and get your clients to sign up for your freebie!
You've been waiting long enough to start making a real income doing what you absolutely love. Why wait anymore? GIVE YOUR DREAM CLIENTS WHAT THEY WANT, NOW.
Truth be told: If you don't give it to them, someone else will.
Buy it. Brand it. Launch it. Everything you need to jumpstart your business is right here for ONLY $77.
What happens when you buy?
I will send the materials right to your inbox, and you start editing your done for you opt-in freebie.
Then you share, share and share.
The time is now my friend.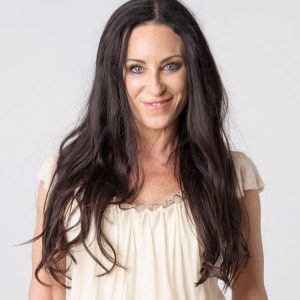 My name is Rachel A. Feldman.
I am a kick-ass business coach for health and wellness professionals, who are sick and tired of having businesses that do not attract the ideal client or when they do, they do not have a system to teach them. I help them define niche, story, backstory, a system and a leak-free business sales funnel. I had my own health struggles that lead me to be a health coach and then organically became a biz coach after my struggles and mastered my own leak free business funnel system. I went from making 13k to 6 figures by year 3 and now I am proud to say, I rock a business that feeds my soul, my spirit and my family.
Do you still have questions? Please check the FAQ page for answers to common questions.
REFUND POLICY: Due to the nature of a downloadable product, we do not issue refunds. If you have questions about what product is right for you, please fill out the contact form. Thank you for understanding, and we look forward to supporting you. To read the full disclaimer and FaQ's, please visit https://yourhealthcoachbiz.com
Be an Affiliate
Want to be an Affiliate? Sweet. You can rock the ripple effect and share the love with another wellness professional. Join our affiliate program and receive a referral for rockin' the ripple effect and helping another wellness professional start their business with the right tools and the right community support.
Click here to join the affiliate program.
IMPORTANT NOTICE: Your use and purchase from this site signifies your agreement with my Terms & Conditions and Product Disclaimer. If you do not agree with my Terms & Conditions and Product Disclaimer, please do not buy this product and close this website.
Benefits of CBD Oil™ by Rachel Feldman is licensed under a Creative Commons Attribution-NonCommercial-NoDerivs 3.0 Unported License. RE-SALE OF ALL PROGRAM MATERIALS IS PROHIBITED.