SAVE $1000+ WITH THE VIP PACKAGE [ALL PROGRAMS INCLUDED!] BUY NOW
Rachel Feldman Presents
DONE-FOR-YOU PROGRAMS FOR HEALTH COACHES
SUMMER EDITION
What are the Done For You Programs?
When you got certified this wasn't the idea of a coaching career you were told to expect. No one talks about how you'll spend hundreds of hours researching, writing, editing, and marketing your programs…EVERY season.
Coach, between writing for your business, marketing it, and testing recipes, how much time do you actually have to spend with clients in groups and 1:1, online and offline, and changing lives?
Wouldn't you love to build a thriving practice, keep leveling up, and have more free time?
Have you ever felt like you're on the edge of something amazing, like your dream business is just around the corner, but you just can't seem to get there on your own?
I've been there, Coach. It took me 2 years and 9 months to figure out what I'm going to share with you right now: You need a system.
If you've ever bought a program and left it sitting on your hard drive or in your bookshelf, you know that a pretty package isn't all that counts. The contents have to be solid and seasonal, and you need a support system you can turn to. And you need to know what to DO with all the materials you have.
That's what having a system is all about.
No business can survive without clients. To get clients, you need a leak-proof funnel backed by a step-by-step system you can start using right away. You've got the expertise to thrive. It's time to make your mark on this world.
Have you mapped out your clients' journey through your programs?
So many incredible health coaches struggle with this. You've got the fire of an entrepreneur – but you also need a gutsy brand and a clear path for your clients to follow. You need time to build your name. And like all businesses, you need something that sets you apart.
Are you ready to go to your clients instead of waiting for them to find you?
You need time-saving content. You need to know who you are, and you've got to keep looking outside the box if you want high-paying clients. In this modern world, it's not enough to just say, "Here I am! Come sign up so I can help you!"
If it were that easy, the rat race would have ended a long time ago.
You have to fight to get ahead. You need a proven system, but you can't afford to rely on last season's (or worse, last year's) programs to put you ahead of the pack.
Online, offline, 1:1, in groups, challenges, email, webinars, workshops, the local gym…you name it. You've got to be ready for your clients, wherever they are.
It's all here, ready for you to rock your business the next level:
A kickass set of info-packed, life-changing programs ready designed just for this season: Teach your clients how and what to eat with SEASONAL programs based on the teachings of industry leaders, like Liz Lipski, Anne Louise Gittleman, Dr. Mark Hyman, and Dr. Robert Morse.
A list-building strategy: It's really tough to sell a program to dozens when your list consists of only 5 people (or 0). Want to kick seriously profitable butt on your next launch? You need community support and a plan of action to get the word out about your great work.
A gateway program: This is a fast, reasonably priced coaching system that guarantees your clients quick results with minimal financial investment on their part. Perfect for getting that noncommittal client in the door who may not have been ready to sign up for a longer program.
Programs that can be used in multiple ways: There's more than one way to rock Done-For-You programs – both on and offline. In-person workshops, keynotes, presentations, even as static programs can make you money while you sleep.
You're here for a reason. It's time to manifest your purpose, not stare at a blank computer screen, wishing you had more hours in the day to devote to your coaching business.
It's time to share your message, knowledge, and brilliance with the world.
From your free offer to your top-shelf offering, you need to lead your clients down a clear, leak-free path to better health and wellness.
YOU NEED AN EASY-TO-FOLLOW SYSTEM THAT MATCHES YOUR LIFE AND FITS YOUR COACHING PRACTICE.
What would happen if you woke up tomorrow and had all of the program materials you needed for this season, beautifully styled, carefully researched, and packed with delicious recipes, marketing images, emails, blogs, and newsletters?
Coach, if you woke up tomorrow and could focus on your clients instead of writing new program materials and struggling to put out enough content, I know your practice would change. You'd thrive.
I was in business for 2 year and 9 months before I realized I was scrambling and didn't have a system for my clients. I needed a visible brand, programs, and a system that would help me rock them. That's when I created my first detox and elimination program – the same program you see being sold to coaches.
It brought me visibility, authority, and credibility with my clients. Group coaching, 1:1 sessions, online and offline programs, and the confidence to close that health history with new clients.
It also brought me a major insight. Clients need more than one program. They need a full journey:
A tripwire or gateway program that lasts just a few days to 14 and allows them to test the waters working with you 1:1 as a single session or as a program
A signature program that lasts 21 days to a month, so they can start to see lasting changes but many coaches will make the Detox or even Grain Free a Signature program and extend the day or combine with another program
And a mega-program that lasts several months and solidifies their new good habits and many coaches combine the programs or use the Signature and Mega Program to make the complete Mega
Now your practice can thrive the way mine has – with niche-specific programs and a full system that's easy to follow, gives you the support you need, and saves you hundreds of hours.
Based on the teachings of
Focus on what you love. Coach.
Leave the rest to me and my team.
Rock the System that Fits YOUR Niche…
Not ready to set your entire business up today?
Ever feel like you've tried it all, but your business is going nowhere?
If you've ever found yourself crying in frustration and ready to give up on your dream, I feel you. I was you.
When I graduated from IIN, I was kicking my own autoimmune's butt and working hard to build my business from scratch. We'd lost everything in 2008 with the recession. People thought I was crazy. How do you change careers and build a thriving business in the middle of a recession? I didn't know, but I knew I had to try.
My kids were babies when I started. They were at home with me while I built my health coaching practice, and seeing them constantly reminded me why I do what I do.
Being a stay at home mom means work-life balance is impossible and structure is a must. For the first two years, I wasn't sure my business was going to make it. I felt lost. There was so much I needed to learn that wasn't taught in school: marketing, blogging, email, video production… the list seemed endless. I had to get it under control, and fast. My family was counting on me.
The abundance of support and education is unmatched.
And then inspiration hit me. I needed to work smarter, not harder. I needed a system.
Talk about a turnaround. Success came fast once I had a system set up. I got the opportunity to teach at the Hippocrates Institute, to write for some of my favorite publications, and to spend more time with my husband and our 2 wonderful kids. My schedule and my bank account are loaded. And my life? Balanced and zen, Coach.
When I realized how important a system was to my success, I knew I had to share it with other coaches. That's how the Done For You Programs were born. To date, I've helped over 8,500 coaches run the practice they always wanted. I'm here to help you book more clients and sell out your own programs. Together, we can create a world with less sickness and more happiness.
THE FIRST 250 BUYERS STATE OF THE ART DFY PROGRAM: Mastering the Art of Self Care and Self Love DFY Program which includes:
Smoothie Bowl Mayhem

10 Fully Done For You Blog Articles that you can immediately plug into your website. This will save you endless hours in front of the computer so you can invest them in the thing you love: Coaching!
10 Fabulous Images, edited and ready to go so you can start promoting not just your blog posts, but your website and increase credibility across all your social media channels.
10 Beautiful Royalty Free Images You can use for your blog posts, newsletters, printouts and so much more, the possibilities are endless!
8 Delicious Smoothie Bowl Recipes ready to mind blow your clients. This Opt-in Freebie and recipe guide is also beautifully styled.
10 Social Media Posts ready to be plugged into your social media automation tools. Can you imagine having a sexy social media promotion on auto-pilot? Well, dream no more! It's here!
Natural Skin Care 101

10 Articles Wrapped in a Bow and Ready to Go! Forget spending 4 hours or more on blog writing or spending your budget on a copywriter! I got you, girl! Just insert these babies in your blog, promote and watch the views blow up!
Natural Skin Care Guide. 44 pages of top-notch information to help your client with natural skin care and anti-aging.
Cheat Sheet for your client. Choosing the right products is made simple with this cheat sheet.
13 Pages packed with super valuable information on The Dangerous Over-The-Counter Skin Products. Your clients will appreciate this extensive guide on what to avoid to have beautiful, healthy and glowing skin.
10 Clean and Polished Social Media Graphics, edited and ready to promote your products, website and your authority across all social media.
100 images attribution free ready for you to add to picmonkey.com or canva.com
Gotta hurry though, these bonuses are ONLY available to the first 250 buyers
Sleeping peacefully because your clients are booked and the programs you needed to whip up for them are already done.
Spending time with your family, since you're no longer locking yourself in a room trying to cut and paste recipes from random health blogs into customized meals.
Enjoying rave reviews and referrals from clients who love you because you're able to give them your ALL without being drained by of the other moving parts of your biz.
Creating the retreats, masterminds, and group programs you've been dreaming of because marketing is now (finally) a breeze.
Success is the ability to do what you want, when you want, WITHOUT missing out on sleep, self-care, and quality time with your loved ones because "you have to."
Buy It and Got For It!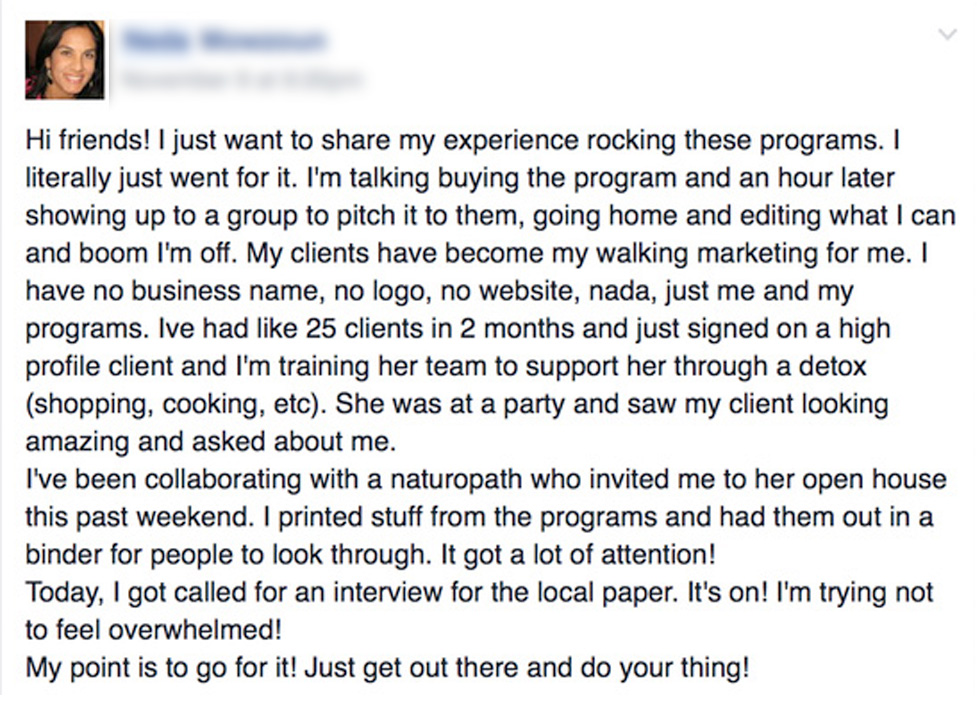 Neda - Facebook Comment
I've learned the importance of showing up.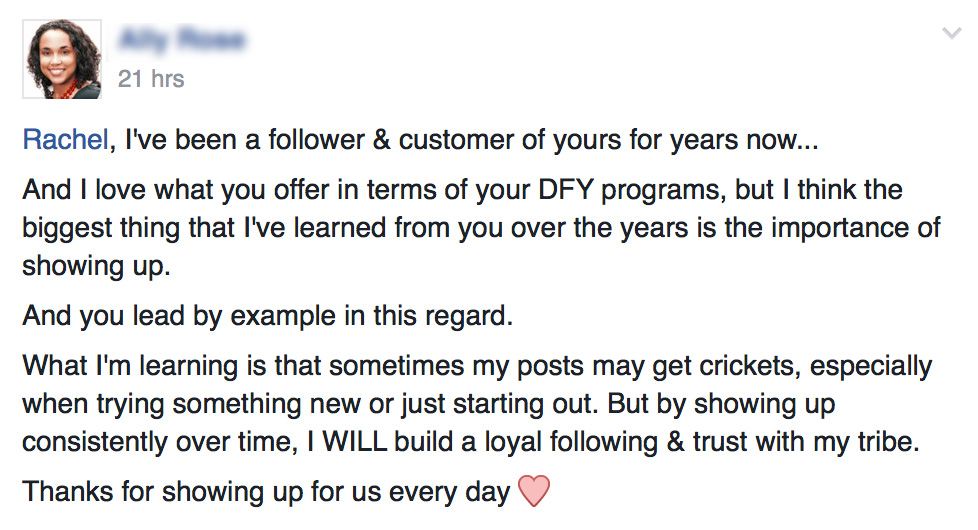 Ally - Facebook Comment
Tired of buying courses that ARE NOT GEARED toweards health coaches or the lifestyle niche business..it is all good because I have you covered…buy one of our business courses and we cater to you – the health and wellness coach. Build your business, nail down your niche and attract your ideal cliet. Make $$ doing what you love.
Steal My Copywriter
Niche and Message Masterclass
Launch School
Sick and tired of wasting energy writing blogs ot looking for pictures? We get it because we are health coaches. We created the content packages because we know what it takes to make it and not pull your hair out. We have you covered when it comes to done for you content for your health coach biz.
Health Coach 60-Blog Content Package
NEW
Health Coach 60 Newsletter Package
We know you need workshops for free workshops, paid workshops and even paid masterclasses, which is why we created the done for you workshops for health coach and wellness professionals, so take advantage of our expertise and rock out your next workshop online or offline in style.
How to Quit Sugar for Life Workshop
Mastering Your Gut Health Workshop
NEW
Women's Hormone Workshop
DONE FOR YOU ESSENTIAL OIL PROGRAMS
We know what it takes to run a healthy essential oils business and that is why we have created multiple opportunities for you to build your busness with ease: funnels. Opt in freebies and even a cleanse and restore doterra cleanse. First touch, Second touch, Third Touch.
Done For You Opt-in Freebies
You've got the programs you need, but your business could use a dash of something extra. From opt-in freebies to business builders, that special something you've been looking for is right here:
Done For You Tripwires and Gateway Programs
If you don't need a full system but want to build your list and draw new clients, check out my a la carte tripwire and gateway program options. Pick the one that's perfect for your clients and niche:
You know what you're after. You've already got the perfect opt-in, know how to rock your mega-program, and are looking for the ideal Signature Program that you can rock as your own. Grab the one that's perfect for your niche:
Your business is almost there. Every season, your calendar is booked. You just wish you had a little more free time and you know your clients are craving more time with you. Coach, you can sell a higher-value, longer program to your top clients. Help them get lasting, long-term results while giving yourself a break. There's a program below that's perfect for you:
Jenna's Problem: No motivation.
Rachel's Answer: A supportive group of like-minded health coaches, and the support she needed to stay motivated all season long.
Jenna's Story: Jenna Drew was no stranger to health coaching programs when she first bought Rachel's Done for You Programs. But season after season, there was one problem – she couldn't get started. The programs she bought sat around collecting dust. No matter how hard she tried, she couldn't get them to work, and it all came down to one thing. Support.
The real problem Jenna was facing wasn't a lack of materials. She needed a supportive community of like-minded coaches. Jenna needed to feel like she belonged to something bigger than herself, that her goals were possible, and she needed quality content that was well-researched and could help her clients while staying true to what she learned in her certification program.
Jenna found motivation to launch, support to keep going, and plenty of content that met her tough standards in Rachel's programs. Now, she's one of the first in line every season, ready to bring her clients the best. Her programs fill up and her clients are happy.
Dana's Problem: Getting new clients.
Rachel's Answer: Info-packed, beautifully styled materials that helped Dana's personality and expertise shine, drawing in new clients through referrals.
Dana's Story: Dana Dinnawi knows the value of reputation. When she first started with Rachel's programs, she'd heard how some coaches booked 40+ programs right away. That wasn't her style. Dana got something more valuable when she started working with the Done For You Programs: A solid reputation built on the expertise she demonstrated.
Word of mouth is what drives Dana's practice today. The gorgeous, info-packed materials in Rachel's programs and Dana's sweet personality combined perfectly to help her business thrive. Her clients love her, love the programs, and make sure to connect her with potential new clients.
From the local community center to her kids' school, Dana's been asked to give talks and cooking classes to get her community healthy. And you know what those events bring: MORE clients!
Dolly's Problem: Her business needed some extra oomph to take it to the next level.
Rachel's Answer: Versatile programs that could be used in lots of ways, packed with tons of info, and paired with step-by-step guidance from Rachel and her team to help Dolly's business thrive.
Dolly's Story: Dolly Lawrence came to Rachel in 2015, looking for a change. Her health coaching practice needed some inspiration. A little juice, if you will. She'd been having trouble with digestion, and wanted to offer a good detox to her clients that they could trust. So that's where she started.
Dolly picked up the Basic Detox, and she found herself with options and room to grow. The program offered her several ways to cater to her clients needs. When she had question, Rachel was there to help her out. The info-packed program materials gave her the versatility and adaptability she craved, and today her business is booming with multiple streams of income.
Here's what I used to hit my 6-figure goal:
KICKASS SMART SYSTEMS.
You cannot make a sale without having a system in place. There's a method to the madness of building a business. You'll need to create a sales funnel, including freebies, emails, newsletters, packages, and offers, and a way to communicate effectively with your clients.
Well, picture your ideal funnel all good to go: organized, locked, loaded, and ready to aim and fire.
REPUTATION BUILT ON CONTENT.
You need to grow a following via email, social media, and word of mouth, and the fastest, smartest, most efficient way to do this is with consistent content. I'm talking about blogs and emails that people actually want to forward and share.
I'm talking about graphics and memes that have priceless information and lead people back to YOU and your website. Now, imagine having all of that, done for you.
FOUNDATIONAL PROGRAMS.
Your clients are coming to you for answers. They want you to craft simple, delicious meal plans they can stick to. They're hiring you to provide them with guidelines and healthy options that are actually yummy.
What if I told you that I hired a real chef to handle this for you?
WHEN ALL OF THAT'S IN PLACE, YOUR BUSINESS WILL BOOM.
Here are the top 5 reasons why these programs rock so hard:
1. No more wasted time (and $$) on Upwork or Fiverr looking designers, VAs, or copywriters.
2. You get powerful support from a community of coaches who are on the same path as you, along with personal help and fresh resources from ME, every day.
3. You'll finally have the confidence to step out and get noticed. Make that phone call. Send that email. You'll be ready to take the world by storm.
4. It takes all the legwork out of finding your niche and your story, AND you'll be helping others decrease inflammation, improve digestion, and discover mind-body-spirit health. (Warning: your inbox might fill up with thank you notes.)
5. The program, marketing package, recipes, royalty-free photos, and private forum with daily support will save you thousands.
It's Time to Level Up Your Biz, Coach.
So, Coach, how much are you saving with these programs?
How much does it cost to create ONE program?
Check out this cost breakdown:
Avg. cost of Program design

= $1000+
Every Wellness Business Solution program comes with a fully customizable, pre-written eBook that has stunning covers to choose from.All the info in the eBook is fully researched and vetted by experts, so your clients will see the results they've been waiting for.
Avg. cost of a sales page written by a pro copywriter

= $500 – $1500+
I've included a sales page template (written by my very own copywriter), so all you have to do is drop in your logo & info, post, and get to sellin'!
Avg. cost of a virtual team to implement your PayPal and Dropbox, upload videos, post your sales page, schedule emails, etc.

= $500
You get in-depth, Screen Share tutorial videos for every part of the launch plus a launch pro kit to keep your launch organized – Animoto, PayPal, Dropbox, YouTube, WordPress … we've got you covered.
Avg. number of hours needed to create your own program

= 100+ hours
Between writing, creating, and editing, you lose billable time that you could have spent coaching! With this program, the work's been done for you. All you have to do is make it work for you.
Avg. cost of getting one e-Book created (10 pages with a custom cover plus 3D ebook)

= $250+
Coach, tell me honestly. Do you REALLY have time to write a book or 5 every season AND make a gorgeous 3D cover for it? Hiring a designer is going to cost you a pretty penny, and writing it isn't free, either. You're either taking your time to do it (and YES, that's worth something. What's your hourly rate?) or paying someone else to. It's time to save yourself hours and effort.
Avg. cost of hiring a chef to test the recipes, write the recipes and buy the ingredients for the delicious and healthy meals

= $1,500+
Time it takes to find an incredible chef whose food actually looks and tastes so great clients love to eat it, and it's still healthy? An eternity. Do you have time to audition chefs this season? Or would you like to make friends with Pinterest and spend another 300+ hours cooking and testing a ton of supposedly healthy and delicious recipes? Yeah…I still remember my first taste of a bad chocolate avocado pudding recipe. The good ones are delish, but online recipe hunting is a real grab bag. SO glad I've got an unbeatable chef writing all my recipes!
Success is living each day doing what you love.
Live it, Coach.
Do you still have questions? Please check the FAQ page for answers to common questions.
REFUND POLICY: Due to the nature of a downloadable product, we do not issue refunds. If you have questions about what product is right for you, please fill out the contact form. Thank you for understanding and we look forward to supporting you. To read the full disclaimer and FaQ's, please visit https://yourhealthcoachbiz.com
Be an Affiliate
Want to be an Affiliate? Sweet. You can rock the ripple effect and share the love with another wellness professional. Join our affiliate program and receive a referral for rockin' the ripple effect and helping another wellness professional start their business with the right tools and the right community support.
Click here to join the affiliate program.
IMPORTANT NOTICE: Your use and purchase from this site signifies your agreement with my Terms & Conditions and Product Disclaimer. If you do not agree with my Terms & Conditions and Product Disclaimer, please do not buy this product and close this website.
Done For You Programs by Rachel Feldman is licensed under a Creative Commons Attribution-NonCommercial-NoDerivs 3.0 Unported License. RE-SALE OF ALL PROGRAM MATERIALS IS PROHIBITED.