HELPING YOUR CLIENTS  LEARN HOW TO THRIVE IN THEIR MIND, NUTRITION, AND GUT
the 3 month foundation program™
The Done For You Foundational Program For Health Coaches In Any Niche
Did you know that having a negative mindset or outlook on life can have a significant impact on your physical health?
Did you know that the food your clients are eating now could have a lasting impact on their health for years to come? Did you know that a growing body of research suggests that many health issues, from low energy and poor digestion to chronic inflammation and even mood disorders, can be linked to an imbalanced or "messed up" gut?
That's where The Foundation program comes in.
Your clients need freedom from health problems, to end the gut issues, and reclaim their body and health. This is the foundational program they need and that you need to bring to them.
Your clients need a simple solution to fixing their body.
Smart coaches need something that will guide clients on a journey to a cleaner, healthier lifestyle. 
What would make life soooo much easier?
A Done For You Program specifically designed to help health coaches like you provide their clients with a comprehensive, science-backed approach to achieving optimal health.
This is it, coach…the foundation. The Foundation – A 3 Month Core Coaching Program To Help Your Clients Thrive
MINDSET. NUTRITION. GUT.
Recipes are: Vegan and Omnivore Suggestions.
These Done-For-You Programs are right for you if…
You are a brand-new coach, fresh out of school, and you need a program of substance to offer your clients.
You are a health professional who wants to build their business on a solid foundation of valuable, niche-specific programs, and offer more than just two sessions and two handouts in any given month.
You are a seasoned coach who's been around the block, have a few launches under your belt, and now you're ready for time-saving tools so that you can coach more and work the back-end a whole lot less.
You are a coach who wants to rebrand, make a name for yourself, and stand out in your industry using niche-specific programs that attract potential clients like a magnet.
These Done-For-You Programs will save you…
Stress: You were born to coach and pursue your dreams and that doesn't include sitting in front of your computer trying to work every single aspect of your business all by yourself. The stress of creating and writing hundreds of pages just isn't where you need to put your energy when you have clients waiting to be coached.
Time: Whether you're working a 9 to 5 or raising kids, time is of the essence. You can't possibly clone yourself, and the startup funds to hire a full blown team to do it for you just isn't there. These Done-For-You Programs will give you more time the minute you say yes to more freedom in your business and choose the niche-specific program of your dreams. One program guide takes 100 hours to complete – imagine what it takes to create the entire program.
Money: Let's talk cash, coach. The value of these programs begin at 8k and end in the ballpark of 30k to create just one. From the program guides to the recipes, sales pages to written emails, social media images to newsletters, and so much more. Why get into a heap of debt when you can get your business rolling in the dough for anywhere between $167-$2,812? Easy pick, isn't it?
Because without one, your potential clients do NOT have multiple entry points into your business.
No two clients are alike.
Some want to test you over and over again. Ten times through your challenges and they still haven't bought your signature program. Some will. Some won't.
Some are groupies – they only want in on your group classes and couldn't care less about 1:1. Others thrive on 1:1.
Some only trust you enough to invest after they've seen you give a presentation or a webinar.
Some want to meet you in person, chat with you and have a session before they're ready to sign up for the long haul.
You've got to be ready to capture new clients' attention, wherever they are.
Packed with guides, recipes, social media graphics, blogs, opt-in freebies, and more, this program is your moneymaker, and it's NOT just for health coaches. Are you a fitness coach? A wellness coach? If you've noticed the need for your clients to have a solid foundation for their health (and eating a little healthier wouldn't hurt them, either), this program is for you.
Your clients will appreciate the informative research on how Mindset, Nutrition, and Gut all play a CRUCIAL role in achieving optimal health. You'll have the brand-new program you need to get your name out there.
This results-driven new program helps your clients ditch their negative thinking for good, put healthy food into their body to nourish their cells, and replenish their gut. 
Introducing the Foundation: A 3 Month Signature Program - done-for-you program created to help your clients restore their mind, nourish their body, and replenish their gut so they can thrive and achieve health at the highest level.
This program is right for you if...
The FOUNDATION – A 3 Month Coaching Program is right for you if you're tired of watching your clients struggle with negative toxic emotions, poor diets, and an unhealthy gut linked to a slew of other health issues.
If your clients' health is your main concern, it's time to show them how to embrace wellness – starting in the kitchen.
If you're ready to take your practice to the next level, save yourself hours of research and writing, and help your clients embrace wellness, this program is for YOU.
Who is the program right for?
This is for the coach who wants to help their clients build their health on a rock solid foundation.
This is for the coach who specializes in mindset, nutrition, and gut health. (Really, any niche.)
This is for the coach who wants to teach their client how to eat healthy foods that are unprocessed.
This is for the coach who wants to launch a program, workshop, masterclass online and offline focusing on foundational truths, and more…
This is for the coach who needs a signature program that can help their clients finally get healthy.
Coach, it's time to revive your clients' lives and transform your business into a consistent revenue machine!
OUR FOUNDATIONAL MEGA-PROGRAM
This is THE program you've been waiting for.
THE FOUNDATION - A 3 Month Coaching Program™

includes the marketing mojo you need to create your signature offering wherever YOU want it:
Online
Offline
One-on-one Coaching
Groups
Retreats
Gyms
Spas…
The Possibilities are infinite.
When you have a 3-MONTH PROGRAM that brings mindful living and eating front and center for a total transformation, your business will THRIVE.
Your clients want a program they can stick with. They want you to be there for them, month after month, with a program that becomes a new way of life – not just a temporary solution.
This is it.


You need a FOUNDATIONAL SIGNATURE PROGRAM.
And you need to OFFER IT NOW.
This is the most intense program my team and I have ever created. It's the whole enchilada, the big kahuna, the mega-program with a built-in sales funnel. And it's yours to brand and sell, sell, sell.
The Foundation - a 3 Month Coaching Program

took thousands of hours and a full team of ten professionals to create. This is more than a business booster. Designed to help your clients build a healthier outlook on life and a better relationship with their bodies and their food, it DEFINES your practice.
"ALL DISEASE BEGINS IN THE GUT."
The problem is most people are sick, drained, and seem healthy on the outside, but really, they're dying on the inside.
We're trying to eat 'healthy' in a sick world that produces sick food.
It's time to WAKE YOUR CLIENTS UP.
It is time to STOP the never-ending cycle of poor eating and negative living.
This program can be used in the following ways:
Your 1:1 biz
At Gyms
Do a webinar on stress
Create a course on stress and relaxation
Use the program in your 1-1 coaching calls
Use the program in a group 
Create a self paced do it yourself program
Combine the program with a Gut Program or another signature program to create your step by step process 
WHY DO YOUR CLIENTS NEED THIS PROGRAM?
This program is designed to help your clients get back on track when it comes to clean eating and their overall wellbeing. We are in a constant state of uncertainty and having a reliable system that will nourish the body with healthy recipes, omnivore and vegetarian, that they can easily integrate into their lifestyle is exactly what they are looking for! It's about getting back to good foods that keep our bodies well and strong. And your clients are asking for it. Mine were, too. That's what inspired this The FOUNDATION – A 3 Month Coaching Program! 
You know that as a health coach, you've got to stay ahead of the curve. You've got to anticipate your clients needs, give them info-packed and value-loaded programs. 
Now you can. And you don't have to spend hours locked in your office, trying to write while your family, friends, and life pass you by. 
Get back to doing what you love. Leave the program writing to me and my team. 
This program is designed for you...
This program is your solution to the gazillion requests you've had for a clean eating program that fits your clients' lifestyles.
Designed for you to easily customize, it's packed with materials based on the teachings of top health coaches you know and trust. The materials are polished, professional, and stunning. The content is solid and informative.
Coach, this is the program you've been waiting for.
Informative handouts, packed with info

Stunning presentations you can use at events, 1:1, and even online

Recipes your clients will LOVE
It's all inside, along with hours of time saved that you can spend doing the things you love and spending time with the people you love.
The foundation - A 3 Month coaching Program
mindset. nutrition. gut.
MIndfulness Teaching System
Month 1 Guide - A Complete Go-To 26 page Guide. In this guide, we break down mindfulness, and cover ways to promote metal clarity!
PowerPoint Presentation - with 68 Slides to walk your clients through month 1 with ease.
Scripts - This client-inspiring presentation comes complete with a done-for-you script!
What is Mindfulness?
Mindfulness Activities

Mindfulness Retreats
Meditation
Yoga
Breathwork
Journaling
Mindful Eating
Body Scans
Essential Oils
Simplicity and Mindfulness
Avoid Negativity Through Mindfulness

Homework
Nutrition Teaching System
Month 2 Guide - A Complete Go-To 28 page Guide. In this guide, we give you an arsenal of nutritional so your clients are ready to incorporate them into their lives!
PowerPoint Presentation - with 77 Slides to walk your clients through month 2 with ease.
Scripts - This client-inspiring presentation comes complete with a done-for-you script!
Macros and Micros

Macronutrients
Micronutrients

Antioxidants
Build Your Balanced Plate
Unique Carb Tolerance
Come Back to Homeostasis
Is Organic Important?
How about Grass-Fed?
Gluten
Dairy/Raw Milk
Fruits 
Whole Foods
Dietary Theories
Homework
Gut Health Teaching System
Month 3 Guide - A Complete Go-To 25 page Guide. In this guide, we give you an arsenal of Gut Health techniques so your clients are ready to transform their lives!
PowerPoint Presentation - with 62 Slides to walk your clients through month 3 with ease.
Scripts - This client-inspiring presentation comes complete with a done-for-you script!
Meet the Microbiome
Digestion

Foods that Cause Poor Digestion
Symptoms of Poor Digestion

Leaky Gut
Gluten
Gut/Brain Axis
How Gut Health Affects Sleep
How Gut Health Affects the Immune System
How Gut Health Affects Hormones
Testing for Gut Health
Supplements

Probiotics
Prebiotics
Enzymes
L-Glutamine

Homework
Recipe Guides
These 70+ GLUTEN FREE recipes come with both Vegan and Omnivore options. No groans about 'diet food', they'll love every bite. REAL food, chef-designed recipes, scrumptious-looking and family friendly. Two Recipe Guides PACKED with 70+ recipes: Gluten Free & Healthy Recipes: If your clients like real food (and who doesn't), hit their tastebuds with the right flavors. These scrumptious but healthy recipes make the switch to mindful eating easy.
12 Weeks of Suggested Meals and shopping Lists
Vegan and Omnivore Guides with 12 weeks of meals and shopping lists. So many people struggle with planning their meals because they don't know what to eat or they get hung up at the grocery store. Take the stress away from your clean eating lifestyle with these easy to use suggested meals and shopping lists. They'll learn one of the most important skills: where and how to shop (one less excuse!).


You get everything you need to get clients, coach clients, and make money!
Program Collage
A Done For You Canva Template to Create Your Own Gorgeous Covers! Plus, a Canva Tutorial to learn EXACTLY how to create your own covers, collages, and more to always look like a PRO!
TWO TEACHING MODULES PACKS WITH PPTs, SCRIPTS AND Promotional images
Imagine only needing to rehearse your talk for a webinar, workshop, or live community event. Your job is just to show up and give a talk with the perfect slides, script, and handouts. They're right here, fully-scripted and ready for your brand.
PowerPoint #1: 5 Weight Loss Hacks
PowerPoint with 19 GORGEOUS SLIDES
Script
10 Promotional Images
Editable Canva Template: So you can easily edit and brand your images to match your branding!
PowerPoint #2: 7 Ways to Reset Your Gut
PowerPoint with 31 GORGEOUS SLIDES
Script
10 Promotional Images
Editable Canva Template: So you can easily edit and brand your images to match your branding!
2 GORGEOUS CLIENT-CATCHING OPT-IN FREEBIES
Build your list and boost your credibility with these info-packed, stylish opt-in freebies. Put them on your website to draw subscribers or turn them into mini programs, webinars, workshops, and more to make a great and lasting impression. The options are endless! 
Opt-in Freebie #1: 5 Weight Loss Hacks
A beautifully Designed Guide: 6 Pages in a WORD document so you can easily edit and brand your new guide!
10 Social Media Images to promote the freebie
Guide Cover
Editable Canva Template: So you can easily edit and brand your cover and social media images to match your branding!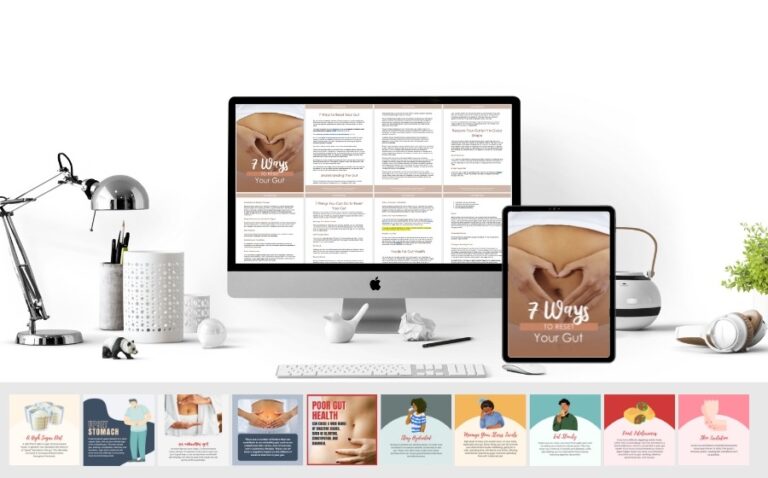 Opt-in Freebie #2: 7 Ways to Reset Your Gut
A beautifully Designed Guide: 9 Pages in a WORD document so you can easily edit and brand your new guide!
10 Social Media Images to promote the freebie
Guide Cover
Editable Canva Template: So you can easily edit and brand your cover and social media images to match your branding!
Cover Images of the Guides with Canva Template
Guide Covers
Editable Canva Template: So you can easily edit and brand your covers to match your branding!
SOCIAL MEDIA LAUNCH PACKAGE
Everything you need to stop living on social media and start making the right impression on it. You know you need Facebook, Instagram, and Twitter, but it's a headache to use them. Am I right? Make your life easy with this professionally-designed and tip-loaded social media package.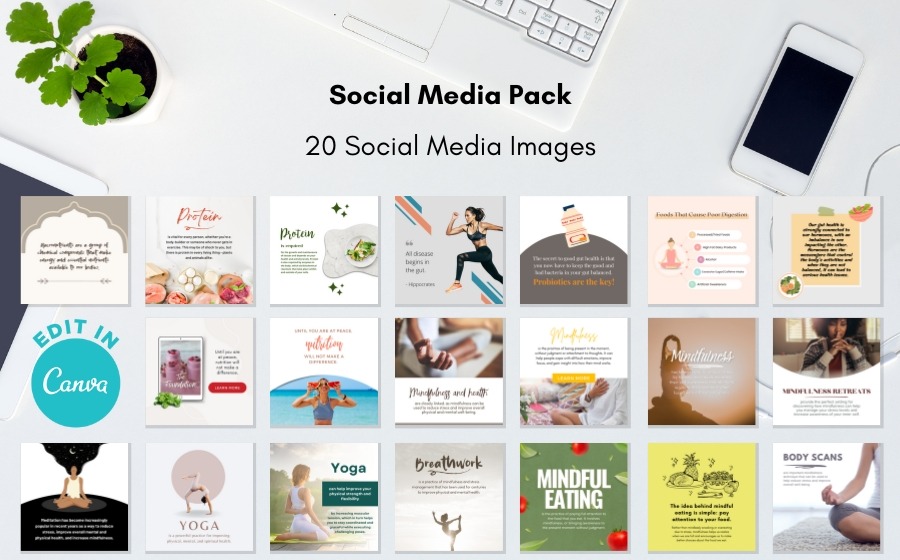 Social Media Images
20 Day Social Media - ready to plug n' play with Canva Templates.
You can edit the covers, graphics and text without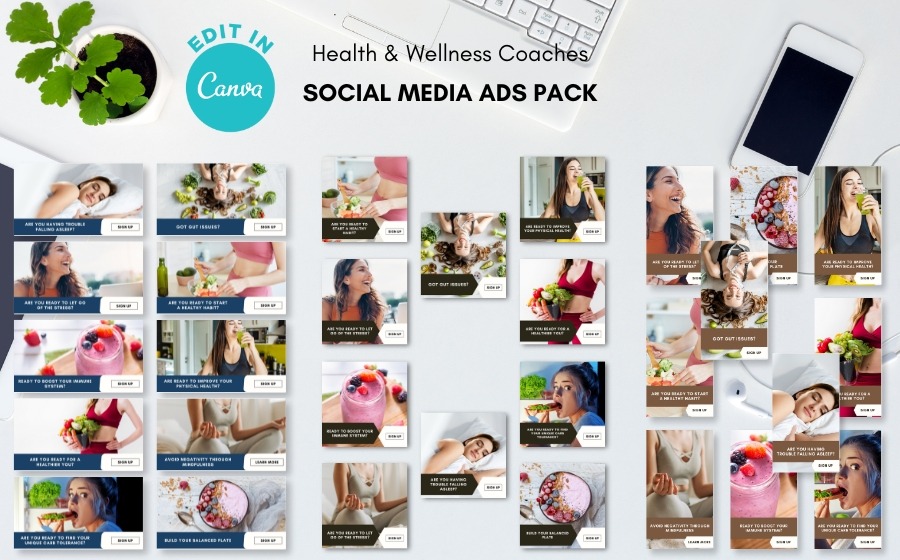 Social Media Ads Pack
Facebook Social Ads Package - 10 Facebook Ads, 10 Instagram Ads, and 10 Instagram Stories with Canva Templates.
You can edit the covers, graphics and text without
20 Blogs
20 Pre-Written blogs ready to post to your website.
3 Simple Eating Habits to Optimize Your Health and Wellbeing
3 Ways to Hydrate Your Body
Adding Meditation to Your Morning Routine
Affirmations to Help Calm Your Mind
Benefits of Switch to a Gluten-Free Diet
Choosing New Habits for Different Aspects of Your Life
Forming New Habits-Change What Doesn't Work
Get Gut Healthy in 5 Steps with These Nutritional Strategies
Healthy Habits You Can Start Today
Hormones and Weight Gain How Hormonal Imbalances Affect Your Body
How a Journal Can Help with Your Habits
How to Make a Salad Exciting Tips for Adding Flavor
Mindfulness Tips for Beginners
Natural Remedies for Improved Emotional Health
The dirty Dozen and Clean 15 Foods What You need to Know about Pesticide Exposure
The Importance of Portion Control Tips for Eating the Right Amount
The Power of Superfoods and What You Need to Know
The Relationship Between Stress and Nutrition How Your Diet Can Help Manage Stress
Why Journaling is Your Best Tool for Improved Emotional Wellbeing
Why You Shouldn't Hide Your Emotions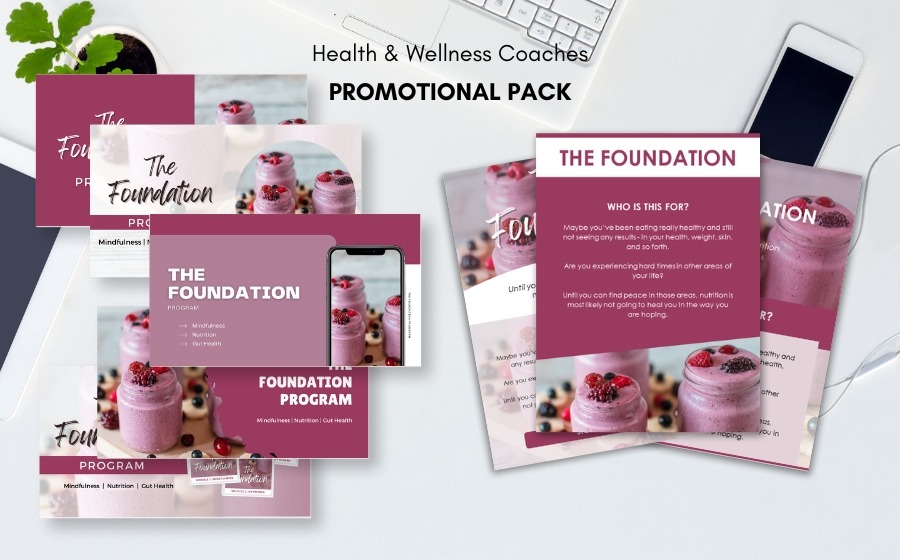 3 STUNNING FLYERS, and Facebook Banners
3 Stunning Flyers

you can use anywhere!

5 Facebook Banners
A Professionally Crafted Sales Page with the Perfect Message
It takes knowledge of marketing, consumer psychology, and yes, writing skills to craft a perfect sales page. That's why I had one of my favorite copywriters craft this high conversions sales page for you, designed to draw new clients, ASAP!
14 Support Emails
Clients need to know you care. These messages get the job done – give them support you can use for automation, Facebook groups or emails to your client. You have one welcome email, one email per week for supporting your client through the program and one follow up email for after the program ends.
6 Fully Customizable Pre-marketing Emails
Get your list pumped for what's on the way and ready to hit the BUY NOW button when you launch.
Value for your business: $16,247 
And coach, those aren't just numbers.
My amazing team of 2 copywriters, 3 graphic designers, 2 editors, and 2 VAs worked around-the-clock to bring you this kickass 3 Month Foundational program.
Those values above? That's how much each item costs to create.
Running a business is HARD WORK. 
Every year, you have to master new skills, come up with new materials, and find a way to set yourself apart from the rest. The skills you learned in school just aren't enough. 
YOU NEED NEW TECHNIQUES. FAST. 
You've got to innovate. 
I want you to be the next celebrity health coach. You can make your mark on the world., You just need the right tips and tools to do it. 
It's time to step up your game.
Work Your Mojo ON AND OFFLINE!
It's time to reinvent the way your practice runs. Let your creativity flow, and you'll find all kinds of ways to find new clients and keep old ones coming back for more.
GIVE YOUR CLIENTS THE BOOST THEY NEED, WHILE BOOSTING YOUR BUSINESS.
So … what are you going to do?
You could keep doing what you're doing. You got this far on your own, so why change now? You can go it alone and hope to figure out exactly what opt-in to create, how to write a sales page and email autoresponder series, and then create detox plans and recipes from the thousands of choices out there after spending hundreds of hours doing research. And you could gamble that it might work…
OR you could finally build the health coaching practice of your dreams.
Use my tried-and-tested, done-for-you programs that deliver you the exact tools you need to launch your program and serve your clients like they deserve – with quality products and respect.
The choice is yours, Coach.
Buy it. Brand it. Launch it.
This is how much it would cost for you to create this program
The 3 month foundation program

Here are a few ways to set yourself apart
OFFLINE

(but DON'T stop with this list, sister – keep brainstorming!):

Host a workshop at your home. Serve clean cocktails and make it a fun night for all. Sell your program to everyone in the room!
Launch a Clean Eating challenge and use it to upsell your program.
Combine the program with your other programs for a kickass mega wellness program your clients will LOVE
Combine your skills with a pro chef, trainer, massage therapist, or naturopath for a package that will wow your clients and theirs
Host a group retreat based on the first week of the program and upsell the rest of the program once your clients are hooked
Hook up with a local spa to offer a detox and cleanse special based on the program
Looking for tips on rocking the health coaching world
ONLINE

? These can get you started, but DON'T stop here. Keep innovating!
Host your own class online – first come, first serve seating. Record it live or upload it to YouTube…or BOTH!
Create your own YouTube channel to show your stuff and teach a wide audience the importance of the Foundation.
Sell access to paid workshops and offer the Foundation program as a bonus
Host an online program based on the Foundation program
Combine the Foundation program with any other DFY program for added value
Sell the recipes as digital products to catch the attention of new clients who want to see the value you offer before committing
What happens when you buy
I send the materials right to your inbox, and you start editing your done for you program.
Then you share, share and share.
Your Time is now my friend...
My name is Rachel A. Feldman
I am a kick-ass business coach for health and wellness professionals, who are sick and tired of having businesses that do not attract the ideal client or when they do, they do not have a system to teach them. I help them define niche, story, backstory, a system, and a leak-free business sales funnel. I had my own health struggles that lead me to be a health coach and then organically became a biz coach after my struggles and mastered my own leak free business funnel system. I went from making 13k to 6 figures by year 3 and now I am proud to say, I rock a business that feeds my soul, my spirit, and my family.

Most frequent questions and answers
Refund Policy
Due to the nature of a downloadable product, we do not issue refunds. If you have questions about what product is right for you, please contact us via the chat box at the bottom of the page. Thank you for understanding, and we look forward to supporting you. Please make sure you have read our Terms & Conditions, Disclaimer and Privacy Policy.
Want to be an affiliate? Sweet. You can rock the ripple effect and share the love with another wellness professional. Join our affiliate program and receive a referral for rockin' the ripple effect and helping another wellness professional start their business with the right tools and the right community support. Click here to become an affiliate.
Important Notice: Your use and purchase from this site signifies your agreement with my Terms & Conditions and Product Disclaimer. If you do not agree with my Terms & Conditions and Product Disclaimer, please do not buy this product and close this website.
The 3 Month Foundation Program™ by Rachel Feldman is licensed under a Creative Commons Attribution-NonCommercial-NoDerivs 3.0 Unported License. RE-SALE OF ALL PROGRAM MATERIALS IS PROHIBITED.