Introducing
Detox & Cleanse
Basic & Rockstar
Spring Done For You Programs
Detox and Cleanse™ is ideal for the go-getter coach who's sick of cookie-cutter programs that just collect dust or waste computer memory, but aren't really usable.
Looking for a program that focuses on mind and body?
One that gets the importance of eating right – for every season?
Your health coaching business depends on you making a sales funnel that doesn't leak.
One that
tells your clients where to go and how to get there,
gives them the info they need to trust you along the way,
offers different price points for them to get started,
and helps you build authority and visibility,
Making it easy to sell, sell, sell.
I'm going to tell it to you straight, Coach. There are lots of programs out there, but when I started as a health coach, I knew I needed something different, something better. Not all clients are ready to commit to raw programs, and not all of them want to or CAN. And so many detox and clean eating programs include foods that are healthy, but cause histamine reactions for a lot of people (including me!). There's a better way.
Detox™ is different. Friendly for clients who can't eat nightshades, nuts, or eggs, Detox™ includes healthy proteins, pseudo-grains, and beans. It's an elimination diet that's seasonally-rooted and full of flavor.
Based on the teaching of Liz Lipski and John Douillard, you can use this program as more than just a 1:1 detox with your clients. It's a sugar cleanse, a weight loss jump start, perfect for cooking workshops, healthy food shopping tours, even your signature program. Whatever your practice needs, Detox™ delivers.
These programs freed me up to do the work on perfecting the sales efforts that go with it
Just a quick note of thanks for some great work and material this season. The Fall program is the best ever. Not only do I love the Rockstar, I finally utilized some support work and was very pleased with the results.
In past seasons, I found myself spending too much time fighting with my computer about formatting, editing, etc. By having your team make my sales page and set up my already written auto responder emails, it freed me up to do the work on perfecting my Clean Eating program and the sales efforts that go with it! I'm looking forward to seeing the next season's program!
Jeanine Toes
Choose the option that best meets your needs:
Everything in DETOX BASIC™ AND the marketing mojo to drive sales

You don't have to waste countless hours researching material, tasting recipes, creating suggested meals, and writing hundreds of pages on detox and clean eating.
We did it for you.
But Coach, let's get one thing straight. This is more than a detox. It's a clean eating program that draws from Liz Lipski, as well as the teachings of Anne Louise Gittleman and John Pitchford.
It's different from cookie-cutter programs your clients get bored with in one MAJOR way. It's Seasonal. As health coaches, you and I both know…
The Only Way to Properly Detox is WITH THE SEASONS.
You don't have a full team of copywriters, editors, marketing experts, graphic designers, and chefs working with you – until NOW.
Do you really have the time to do it all from scratch?
LAUNCH INSTANTLY.
THIS IS YOUR SALES FUNNEL.
ALL BRAND NEW CONTENT
Get ready to help your clients break barriers and build healthier lifestyles from the inside out.
Opt-in freebies
Recipes
Presentations
Coaching manuals
Handouts
…and SO MUCH MORE
These detox and clean eating programs are cleaning more than your clients' pantries, sister. They're LOADED with well-researched, time-saving, unique content.
They're changing lives.
Jennifer - Facebook Comment
Taunia - Facebook Comment
Ashley - Facebook Comment
Andrea - Facebook Comment
Our bodies build dependencies on foods we know are bad for us, and our minds can hold onto negativity and grudges. This can wreak havoc on our internal organs distressing us both physically and mentally.
Starting from a solid mental and spiritual base makes a HUGE impact on wellness. Lower cortisol levels, higher energy levels – there are lots of ways we benefit when we keep our mental house clean.
It's time to get mindful with your clients.
Ready for a holistic, COPYRIGHT-FREE program that tackles ALL of your client's detox and clean eating needs?

LISTEN UP.
You've put in the work to get certified as a health coach. You know what your clients need, and you know how to give it to them. But you're also drowning in the tasks of running your business. No matter how many programs you buy, there's always something missing. You need to get down to the basics. Seasonal eating and seasonal detoxes are the answer.
You can't help your clients until you help yourself. You NEED a time-saving program.
Isn't it time you had the chance to work with your clients, give talks at global health summits, and spend time doing the work you love?
When's the last time you spent the day with your family and focused on your personal relationships instead of your business?
How often do you catch yourself peeking at your phone when you head out, or worse, answering messages from clients when you're supposedly taking a break for some much-needed you time?
Wouldn't you love to finally charge what you're worth and have the perfect, professional materials to back you up?
Having a done for you materials you can edit, personalize, brand, and launch immediately is the answer. Access to done for you images, done for you programs, and a strong and supportive community that's there 24/7 for you is what delivers personal and financial freedom.
Imagine waking up tomorrow with a done-for-you business, locked, loaded, and ready to roll, with:
professionally-created recipes, ebooks, guides, emails, newsletters, and informational handouts you can give your clients for immediate results?

copyright-free programs you can customize however you want to improve your client's health? 
…and all the tech tutorials, social media tips, marketing info, and mini-courses you need to put it all to work for you?
Just change the covers, edit to make them sound like you, brand, personalize, slap your beautiful brand on them and put them to work.
What if you could have a supportive group of coaches like you cheering you on, too?
PLUS

a successful health and business coach who is there for you daily.
When you started your health coach practice, did you dream about struggling to find paying clients, getting frustrated with social media and tearing your hair out with tech?
I bet what you really wanted was to consistently grow your list, create reliable health plans for your clients and watch the dollars roll in every time you launched a new program.
You needed a ready-made detox program, personal handouts, and suggested meals, so you weren't starting from square one with every client.
Limited time? You can't clone yourself, but you CAN have it ALL.
You just need the right tools.
New, ideal for spring, and perfect for the coach who wants a business that's ready to roll from day one.
Meet Detox™
The Spring Detox BASIC™ is for the health coach who wants an easy-to-follow foundational detox, allergy-elimination program, or clean eating program for your clients based on whole foods, without 1,000+ hours of extra work for you.
It's for the health coach who knows bad eating habits often have mental and spiritual roots, and who's not afraid to help their clients work beyond what's on their plate. Help your clients manage stress and embrace LIFE again.
Over 1,000 combined hours of work by a team of 10 ridiculously talented pros (and me!) went into creating DETOX BASIC and DETOX ROCKSTAR just for you this season.
The Detox Basic™ Program gives you a complete, holistic detox and clean eating program – to use online AND offline.
Start a membership program or start an online program with this program.
Wanna go offline? It's a plan of action you can deliver to your clients after their health history, with everything you and they need to get started.
Spring

 Detox BASIC™

is for the health coach who wants a foundational detox, allergy-elimination program, or clean eating program for your clients. Based on whole foods, without 1,000+ hours of extra work for you, it's Done For You.
DETOX BASIC is for the health coach who knows bad eating habits often have mental and spiritual roots, and who's not afraid to help their clients work beyond what's on their plate.
Help your clients manage stress and embrace LIFE again.
[HEY COACH: If you have absolutely NO time or patience in your schedule to create marketing materials but VIP is too much for you, check out DETOX ROCKSTAR™. It's exactly what you need. Step it up!]
DETOX BASIC™ is perfect for you if…
You're a health coach who knows how to churn out marketing materials and you have no problem creating your own scripts, images, presentations, and pre-marketing email copy.
You've done this before and just want new materials to launch the new season with fresh recipes and suggested meals.
You're social media savvy. You don't need marketing images, professionally designed flyers, banners, or master tech classes. You've already mastered Picmonkey + Mailchimp + Facebook – and more.
You don't need to learn how to design e-books or write blog posts because you've got that marketing strategy down pat.
You're looking for a clean eating program that your clients will love with recipes that actually taste good, and mouthwatering photos of the ACTUAL recipes (NOT stock).
You're looking for a program that feeds your client's needs on how to cleanse and how to eat clean.
You're ready to help your clients find out why they eat the way they do, how to remove toxins (mental AND physical), and how to manage their stress.
What's included
in this program?
For Your Clients …
BRAND NEW:
Healthy Suggested Meals for 14 Days, a schedule that makes it easy to follow, and SHOPPING LISTS (suggested meals and shopping lists for phases 2 and 3 of the program. (Value $301)
A 4,965-word SPRING Detox Recipe Guide with 55+ brand-new, incredible recipes by Rachel and an impeccable chef. The perfect resource for every day of the detox, with seasonal pseudo-grains, beans, and other options to give your clients the flexibility they need to stay on track and satiated. (Value $1,650)
A 14-day At A Glance Guide: Your clients will love the ease of seeing all 14 days of meals clearly laid out. This printer-friendly guide is a hit with clients and makes the detox a cinch to follow. (Value $301)
The SPRING Detox Guide: This 23+ page, 5,029-word guide gives your clients the tools and flexibility they need to detox in the spring, such as seasonal foods to boost immune, the basics of alkanity, as well as mastering how to test your pH. It details the importance of gut health, food combinations, and breaks down each phase step by step, making it easier for your client to follow the detox program to achieve better results. Teach your clients how to reach emotional balance with the emotional support tools packed in this guide. But what's really new this season is the knowledge given to help your client discover the connection between their feelings, eating patterns, and the health of their body. Help them break old patterns and reclaim a healthy life. This guide will help your client detox physically and emotionally. Teach them to let go of the food and emotions that are holding them back. (Value $1,000+, but it's truly priceless. I personally spent hours writing, editing, and reviewing the material.)
BONUS HANDOUT: How to Cleanse for the Beginner. Food is an asset to your client's health, as long as they know how to use it. This handout helps them navigate detoxing for the first time. (Value $35)
And something my clients have loved for years:
Personal Food Diary. Walks your clients through how they feel during the detox phase as they transform their health. Don't you want to teach your clients which foods fuel them and which don't? This diary will do just that! (Value $70)
PLUS, we give you a CLEAN EATING VERSION OF THE PROGRAM JUST IN CASE YOUR NICHE AND YOUR COMMUNITY PREFERS THE WORDS 'CLEAN EATING' INSTEAD OF DETOX
You and I know how important detoxing is, but the word scares some clients. Give them the clean eating program they need and watch those sales soar. This time-saving bonus gives you the same materials as the all new winter detox with new covers and designs that eliminate the word 'detox' and replace it with 'clean eating' – something that clients who are skeptical of 'detoxes' will enjoy using. The following materials are rebranded for you: (Value $197)

14 day at-a-glance
Guide
Handout
Food diary
Recipe guide
Shopping list & suggested meals
Welcome letter
For Your Business …
BRAND NEW:
Professionally-designed eBook Covers: A 3D + a 2D eBook cover give you the professional look you need to successfully launch your program. (Value $100)
Stunning Welcome Letter to help your clients feel instantly at home – send it through the mail or email. Give them the warm fuzzies for you from day one. (Value $100)
A 20-email support sequence: Use these emails for auto-responders, campaigns, or directly post in the forum for your client to keep them feeling completely supported all the way through their detox. Each email is perfectly paired to their guide and program outline. (Value $2,000)
Biz Resource Guide: Includes all the tools you need to give your clients the VIP experience – things like: where to host a teleclass, webinar, how to make an eBook, tips on screen sharing, how to record a live class, and so much more! (Value $495)
A Professionally-written Sales Page GUARANTEED to INCREASE SALES: A full-length, professional sales page with three sample testimonials created for you by one of my most trusted copywriters.  Get them healthy with clean eating – this PRO SALES PAGE is GUARANTEED to get them onboard. (Value $1,000+)

A rockin' detox sales page that shows your clients the value of your new Spring program, gets them fired up, and helps you sell, written by my top copywriter.
Three Tech Tutorials: These videos will teach you everything you need to know to get your program up and rockin'. (Value $150)

How to Swap Out Covers on Client Materials
How to Your Table of Contents
How to Use the New and Improved Dropbox
Coach's Manual: More than a manual, this is your launch plan, pre-launch checklist, program launch checklist, coach launch checklist, and a detox launch timeline. Quit dreaming of being the uber-organized coach and be her NOW. It's everything you need to stay on track to an amazing launch. (Value $1,000)
Total Value
That's a total value of $8,399+ so far…
Coach, the materials I'm giving you are worth a lot, but there's one resource that's absolutely PRICELESS.
You know how important it is to clients. It matters for YOU, too. I'm talking about SUPPORT.
For your mind & morale, I'm giving you a VIP seat in our exclusive online community.
Coaches like you who've been where you are. Business growth through one of the most powerful resources every coach needs. How invaluable is that?
Every entrepreneur needs a community to cheer them on and support their business growth, which is why we've created this bonus. The coaching and community you need, NOW. 
Not only that, you get access to me.
Ask me ANYTHING about your clients, the program, detoxing, cleansing, or your health and receive straightforward, no-nonsense advice and solutions you can apply immediately. 
You're not alone anymore…
Take a peek at our community …
Level up your business. There are dozens of potential clients out there, looking for ways to get healthy NOW. They're not going to wait for you to get that program you've been working on finished.
It's now or never. Spring is almost here and your clients are worried about packing on those holiday pounds. Are your ready to give them the discipline and help they need?
Are you ready to get started with DETOX BASIC™ Now?
Do you need a little more time to yourself, coach?
If you're burning out from doing too much and working all the time, you're missing out on some of the same lessons you're teaching your clients. It's time to take back a little "me" time.
Make health coaching work for you AND your family. Remember what it's like to have time that's yours to enjoy.
It's not impossible.
I've been in the business of helping coaches like you for almost a decade. More than 8,500 wellness mommas and solopreneurs have gone from suffering to get sign ups to booking their schedules solid with my programs.
You CAN do this, coach. And you CAN have that work-life balance so many people think is just a fairytale.
You just need the right tools.
Tools like
A proven marketing system that not only grows your list but keeps your followers engaged and coming back to book you.

Professionally designed marketing and sales materials (branding and copy) that you can use right now to launch the program of your dreams.

A universal marketing system that turbo charges traffic, clients and sales.

A kickass, leak-free sales funnel to guide your clients towards their next program without skimping on the results they're seeing NOW.
Meet
DETOX ROCKSTAR™
Spring Detox Clean Eating Detox Rockstar™

 saves you time, so you can do what you do best. COACH.
Detox Rockstar™ includes EVERYTHING from Detox Basic™

 AND combines heaps of Master Tech Video Classes with a priceless amount of marketing images, blog posts, emails, PowerPoints, opt-in freebies, webinar scripts, and more.
Spend more time…
Launching group coaching programs

Growing your private coaching practice

Hosting webinars for your tribe

Speaking at global health summits

Relaxing with your family WITHOUT feeling guilty
Spend less time staring at stacks of research, hunting for writers, graphic designers, writing emails, creating opt-in freebies, and groaning over the time you're losing with your family.
Detox Rockstar™ is perfect for you if…
You're ready for exponential growth, and you're prepared to jump from 20 to 1,000+ peeps on your email list. We've created the email sequences, webinar presentations and slide-by-slide scripts for you to get your marketing groove on.
You're looking for a clean eating program that your clients will love with recipes that actually taste good, and loaded with mouthwatering photos that aren't stock.
You're focused on coaching and don't have time to create marketing materials like banners, social media images with text, kick-off or wrap-up program scripts. No more dilly-dallying – we'll handle it for you.
You're looking for play-by-play handbook and tutorials to help with  Social Media, Facebook, editing tools like Canva, PicMonkey, and more.
You want to launch your new programs like a pro with a launch checklist, without months of planning.
What's included
in this program?
It's ALL new and designed to give you the best season you've ever had. Coach, meet Rockstar.
DETOX ROCKSTAR™ business builders
You get everything from DETOX BASIC™

, plus a ton of DETOX ROCKSTAR™ business builders:
20 royalty and attribution-free photos of the recipes taken by a top-notch photographer to help you get your clients salivating over the tasty treats they'll be eating. (Value $600)
Two Professionally-Written Sales Pages GUARANTEED to INCREASE SALES: A full-length, professional sales pages (detox and weight loss) with three sample testimonials created for you by one of my most trusted copywriters. If your clients are ready to lose weight then use the Weight Loss Sales Page. Get them healthy with clean eating – this PRO SALES PAGE is GUARANTEED to get them onboard. Coach, you'll have options. (Value $2,000+)

Energy-Based – Catch the attention of all the could-be clients out there who just can't find the energy they need for every day. Put pep back in their step and cash in your account with this perfectly-crafted sales page.
Detox-Driven – A rockin' detox sales page that shows your clients the value of your new Spring program, gets them fired up, and helps you sell. Written by my top copywriter.
6 fully customizable pre-marketing emails to send to your list. Get them pumped for what's on the way, and ready to hit the buy now button when you launch. Not every client is the same – two of these emails sell hard, while the other two softly and gently encourage your potential clients to start the spring season with you. (Value $600+)
ALL NEW sample Kick-Off and Wrap-Up Call Scripts with TWO NEW presentations to kick off your detox with a bang, written by a professional editor and me. These client-inspiring presentations are 17 slides each, with 5 page -word scripts! (Value $414+)
DELUXE Coaching Manual and Kit: Inside, you'll find everything from coaching advice and tips to food combining suggestions and a step-by-step checklist to keep you on track to a phenomenal launch with 14 supplemental documents. (Value $1,765)

More than a book, this baby becomes your brain:

pre-, program, and post-launch checklists
pricing and marketing advice
a launch timeline
coaching advice
how to use powerpoints
how to launch
know your state laws
…and more!
HANDOUTS

BRAND NEW HANDOUTS:
Use these as blog posts, discussions starters in your Facebook groups, or as handouts to give out to clients at events or in your office. Beautifully designed and researched, your clients are guaranteed to love these handouts. They're your ticket to a great first-impression, Coach. (Value $140)
How to Cleanse When Eating Out – Dining out is a challenge for anyone who wants to eat right. When you're cleansing, it can feel impossible. Show your clients how they can still socialize while getting healthy.
Advanced Cleanse Tools and Teas – Have a client who's ready for more than just the basics? Give them this handout and help their health journey go that much further.
When to Cleanse and When NOT to Cleanse – A good cleanse is great for the body, except when it's not. Help your clients decide if the moment is right and be aware of when cleansing can do more harm than good.
Food That Support Estrogen – Help your female clients keep their hormones in check with the right foods for estrogen health.
KICKASS PRESENTATION PACKAGES
BRAND NEW Live Presentation and Webinar Powerpoint Packages:
These babies will help you build your list, host an in-person workshop, host an online event, and drastically increase your visibility, so your potential clients SEE that you KNOW your stuff when it comes to healthy eating. Feel me? (Value $415+ EACH)
3 Ways to Jumpstart Your Metabolism: So many people have the desire to get healthier, but they hate the time it takes. Catch their interest with these metabolism-boosting tips and convince them to commit to healthy changes. No need to worry about preparing a talk to go with it – I'm giving you a slide-by-slide script for the whole, fully-editable, 14-slide PowerPoint.

2 kickin' social media banners
2 promo images
A Beautifully designed PowerPoint
Slide-by-slide scripts to keep you calm, cool, and prepared in front of the crowd
How to Go From Flabby to Fueled: Get couch potatoes up and moving with this high-energy, motivational 16-slide presentation. They'll be inspired by your energy. I'm giving you the slide-by-slide script you need to make this an amazing presentation.

2 gorgeous, eye-catching social media banners
2 attention-grabbing promo images
A Beautifully designed PowerPoint
Know your words with the slide-by-slide script
OPT-IN FREEBIES
10 Amazing Energy-Boosting Recipes: Scrumptious chef-designed recipes guaranteed to deliver. This kit can be used to gain program sign ups, get potential clients to love you before they even meet you, and eat a little healthier – even before your programs start. (Value $1,145)
This gorgeous opt-in freebie comes with:

The recipe guide (2,551 words, loaded with delicious, energy-boosting recipes)
2d + 3d covers
Opt-in page
Thank you email
1 Facebook ad image
2 banners


7 Power-Packed Breakfasts for All-Day Energy: Cater to the client who is always on the go with this beautiful presentation and the seven scrumptious recipes that come with it. Boost your social media presence, fill your programs before they launch, and win your clients' love and respect before they even sign up. Get them to eat a little healthier – even before your programs begin. (Value $1,055)
This gorgeous opt-in freebie comes with:

The unbeatable freebie (2,496 words, with recipes ready to keep you rocking all day)
2D & 3D covers
Opt-in page
Thank you email
2 banners 
1 Facebook ad image
And, Coach, there is more!
NEW BLOG POSTS
THREE NEW blog posts to premarket the Detox so you can start seeing dollar signs. How much is your time worth? Writing a blog post can take ages. You've got to research, revise, write, illustrate…getting a headache just thinking about it? Relax. It's all done for you. Need emails more than blogs? These will work great as emails; just plug and play into your newsletter and you're good to go. (Value $300)

Blog #1: 5 Secrets to Aid Your Detox This Spring
Blog #2: Spring into Detox 2017
Blog #3: The Detox Recipe: Experience mind revitalization
eBook Collage + Covers
3D collage of the entire program for your sales page or social media to feature your program and create the perfect visual for your clients plus a 3D collage for the clean eating version, too (brand spankin' new) (Value $445)
FOUR different 3D eBook covers – pick your thang and rock it to fit your niche (Value $200):

Spring Cleanse Guide
Clean Eating Guide
Spring Weight Loss Guide
Seasonal Cleanse Guide
SOCIAL MEDIA PACKAGE

BRAND NEW SOCIAL MEDIA LAUNCH PACKAGE:
Let's be honest, coach. Social media isn't everyone's fave…it's a major time suck, and it's not always easy. This package gives you back precious hours while helping you rock your social media. Kick your business into high gear and sell like a PRO (Value $1,475+)
5 Sample Tweets and 3 Facebook Posts
20 professionally-designed inspirational images perfectly sized for social media to use in your posts
Ten designer marketing images for social media, blogs or Facebook promotion to promote and tease out your detox.
Three professionally designed flyers to help you share your business and program in your community offline and online.

Event invitations
Program invitations
Work with me
Five banners to use on your site or for Facebook groups + events. We put all the sweat and tears into the design for you.
6 Beautifully Designed PayPal Buttons for your sales page.
OFFLINE COACHING PACKAGE
Group Coaching Package and JV SELLING TIPS! [BRAND NEW and FULLY-REDESIGNED] (Value $1,020+)

Welcome to Group Coaching Email Template – Get off on the right foot with a message that gets your clients ready to rock the season with you, just add your mojo and hit send.
How to Launch a Client Group Coaching Program Checklist – Get your group coaching program off to a smooth start with this comprehensive checklist.
How to Set Up Group Coaching Calls – This video helps you master the ins and outs of setting up group calls so you can look like a pro in your first session.
Welcome Letter for Clients – Give your clients a great first impression with this personalizable, inviting welcome letter.
How to JV Partner – Finding the right JV partners can be a hassle. This video and handout should help make it simple and stress-free.
JV Letter Template – Know who you'd love to partner with, but can't find the right words to write them? We've got you covered. Just fill in the blanks and send this letter.
JV Sample Contract – Legalese is a headache. Get off to a good start with this JC contract template (but don't forget to let your lawyer give it a once-over before signing and sending it!). 
1 Pinned Post – You asked, so here it is. The pinned post for your Facebook forum.
Post 30-Minute Session Template – After the program, send your clients this message to set up a post-program strategy session with you.
1 on 1 Appointment Confirmation Template – Working that group coaching? Great! Now it's time to set up 1 on 1 appointments. This template makes it easy.
Pre-program Questionnaire – Communicating with your clients clearly from the start is a great way to deliver what they're looking for. Find out what they need from you with this quick questionnaire.
Post-program Questionnaire – Coaching is also learning. Make a great lasting impression and improve your group coaching sessions with this post-program survey.
SPECIAL EXTRAS
A kickass Pricing Guide to help you understand your value and make the coaching fees you deserve. (VALUE $25)
10 Tech and training videos (Value $500)

How to swap covers on your documents
How to start a Facebook biz Page
How to PDF your Power Point Presentation for offline clients
How to Edit your Table of Contents
How to Edit your docs and turn into a PDF
How to post Directly on your FB Page
How to Create a Cover in Canva
How to Create a FB Group and Pin a Post
How to Bitly
How to create a Paypal Button and Link to Mailchimp
TOTAL VALUE
That's a total value of $525+ in just the Rockstar extras.
And coach, those values above aren't just numbers.
My kickass team of 2 pro copywriters, 3 graphic designers, 2 editors, and 2 VAs worked around the clock with me to bring you this program.
Those values above? The REAL cost to make each item. This is REAL value, Sister.
Total Value of Detox Rockstar™:
$8,399 + $12,514 = $20,913+
How you can use Detox Rockstar™ in your OFFLINE business RIGHT NOW:
Host a workshop at your home. Teach clients how to detox the fridge. Call it something like "The Kitchen Makeover," and sell your Detox program to all participants
Introduce the 14-Day Detox in your one month program and hook those clients into a longer commitment
Launch the 14-Day Detox and insert your favorite products into the program – use it as a gateway to help you sell your favorite products
Combine the Detox with another source of income such as a chef, fitness trainer, massage therapist, etc.
Host a group retreat focused on clean eating
Partner with your local gym and host a clean eating challenge
Combine PALEO BASIC™, PALEO ROCKSTAR™, the RAW LIFESTYLE PROGRAM™, RESTORE YOUR GUT™, and/or REVITALIZE™
Partner with a chiro office or even a spa
Develop a 3- or 6-month clean eating or detox program for your clients
How you can use Detox Rockstar™ in your ONLINE business:
Host your own virtual cooking class.
Create YouTube videos and teach using the materials.
Run a challenge online like a 14-Day Detox or Clean Eating Challenge.
Sell access to paid workshops and include the Clean Eating program.
Combine your mastermind program or signature wellness program with the Detox.
Sell recipes and suggested meals as e-products to build your list as a gateway to help you sell higher-end products and programs to your clients.
Use the PPTs or bundle the opt-in freebies and sell it by itself as an excellent list builder. Tons of people will happily spend the price of a latte to improve their health without thinking twice, so this is a perfect sales funnel, encouraging them to schedule a strategy session with you.
Host a series of online classes with the PPTs that are done for you. Educate and reach new potential clients by providing real value.
I've learned the importance of showing up.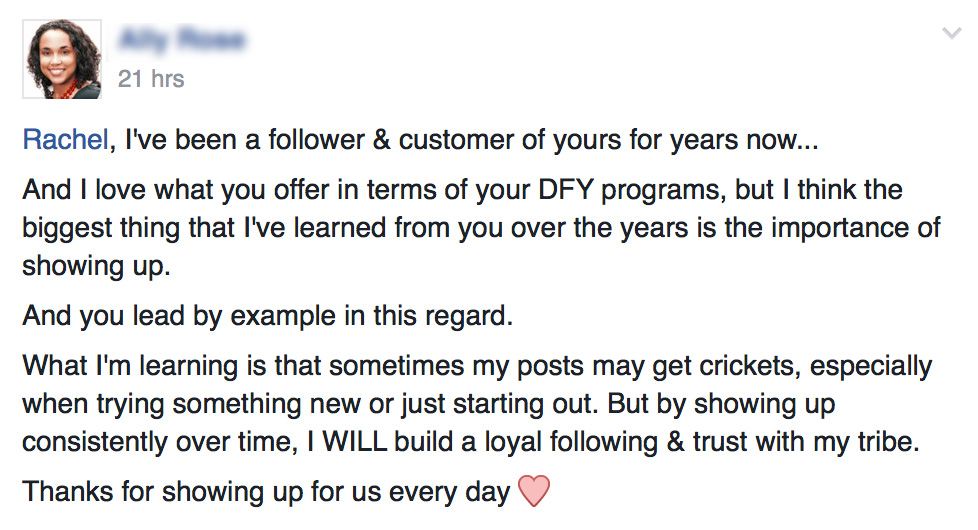 Ally - Facebook Comment
Cara - Facebook Comment
Ready to rock?
You've got options, baby:
Everything in DETOX BASIC™ AND the marketing mojo to drive sales

REFUND POLICY: Due to the nature of a downloadable product, we do not issue refunds. If you have questions about what product is right for you, please fill out the contact form. Thank you for understanding and we look forward to supporting you. To read the full disclaimer and FaQ's, please visit https://yourhealthcoachbiz.com
Be an Affiliate
Want to be an Affiliate? Sweet. You can rock the ripple effect and share the love with another wellness professional. Join our affiliate program and receive a referral for rockin' the ripple effect and helping another wellness professional start their business with the right tools and the right community support.
Click here to join the affiliate program.