GET CUSTOMIZABLE RECIPES FOR YOUR CLIENTS & BUSINESS CLASSES FOR YOU
BUSINESS MASTERMIND
& MEAL PLANNING MEMBERSHIP FOR HEALTH COACHES
A.K.A THE CONTENT CLUB
A KICK ASS CLUB FOR DRIVEN COACHES WHO WANT TO WANT TO LEARN HOW TO BUILD A BIZ & HAVE GREAT CONTENT
Have you been craving business skills?
Are you feeling overwhelmed by social media, list building and launching your online or offline biz?
Are you sick and tired of feeling alone in your Health Coach Biz?
Have your clients been craving simple recipes but you don't have the T-I-M-E to create them?
Are they looking for meals to make for their busy life?
Do you need the support to build a kick-ass biz?
Imagine this:
You find your people, your tribe and, your community.
You have the opportunity to share sales pages, your about me or social media posts and get feedback.
You have the access to resources to rock your business in our membership dashboard.
You can spend less time searching for resources like "How to Build a Clickfunnel page" or "How to Launch a Product" and more time marketing your business.
Bottom line:

 You might have the best detox or mindset program around, but if no one ever buys it, what good is it?
In our private and exclusive Mastermind for Health Coaches, we dive into the real topics you need such as:
How to do a Livestream even when you are scared
How to Niche your business
How to Message to your Niche
How to Launch a Membership
How to Master Copywriting
and more…
Sit down with yourself for a heart-to-heart. Have you spent more than $5,000-$50,000 and sold nothing?
You're not alone. I've talked with dozens of coaches who are exactly where you are – but it does mean something's really, really wrong.
When I recognized what was holding me back, I learned how to rock my health coach business online and offline. Getting exposure was easy. Converting health histories to clients became a breeze. Soon, I started showing other coaches how to turn their practices around, too.
It's time to switch things up for YOU, Coach.
You NEED basic business skills to make it as a health coach, and a blanket marketing course for everyone under the sun is NOT going to cut it. You need to know how to market your services in OUR industry.
It's time to take control of your business. I've taken all the masterminds, classes, tutorials, and business advice that I've shared over 8 years of successful health coaching and a lifetime in corporate setting, and I've put them all in one easy-to access Mastermind, where you get the Tools you need PLUS the Materials you need for your clients PLUS the calls and the SUPPORT.
Now, I'm giving it to you. Get the support you need to soar.
Coaches always need RECIPES AND CONTENT. Instead of you spending time creating them, we are doing the work for you. The recipes are vegetarian with omnivore options.
 You can launch your own membership or use the materials in these following ways.  
Use the recipes as a bonus offer on your program
Use the recipes for a workshop or a cooking class
Use the recipes as a membership
Use the recipes for your 1:1 business
Use these recipes as a lead magnet or a challenge
Use these recipes as a way to get better open rates (4 weeks of gift giving to your email list)
WHO IS THIS FOR?
The Coach who is sick and tired of not getting their questions answered, which leads to overwhelm
The Coach who needs a membership created ONLY for Health Coaches
The Coach who wants to have Hot Seats, Live Q + A's plus business calls to teach you how to blow up your biz
The Coach who is ready to have resources like: How to JV plus how to create a landing page with ease
The Coach who needs to have extra recipes, blogs and a video to promote – fresh NEW CONTENT.
WHO IS THIS NOT FOR?
The Coach who has it all figured out
The Coach who likes to work alone
The Coach who does not need community
The Coach who wants to spend $600-$800 to create the meal plans, videos and, blogs
Rachel is brilliant, genuine, and truly cares about my business and my success!
"I have been in Rachel's monthly mastermind group since it began. She continues to upgrade her content and delivery and goes above and beyond what I originally thought I was paying for. She is brilliant, genuine, and truly cares about my business and my success. She is legit and has paved the way for many coaches to come. I am so glad I made the decision to join her mastermind as she has helped the lightbulb go on more times than I can count. My vision and path have always been within me, but Rachel has this way of helping me get in touch with it in creative ways"
Trina
This is not your average mastermind.
Take a Sweet Peek at what YOU get when you enter the Zone.
You are going to get all of this delivered TO YOU:
Rachel is brilliant, genuine, and truly cares about my business and my success!
"Rachel Feldman is an awesome coach and mentor. I have used some of her programs to help build my coaching business and I have taken some of her webinars and courses to help me become a better and more effective coach.
This new Meal Planning Membership program has been such a great way to learn from Rachel (who prefers her friends call her Rach) in a Mastermind setting. She shares the tools that have made her a successful health and business coach and is passionate about sharing her story and what she has learned.
We receive monthly meal plans which I have used to attract new clients and further engage past and existing clients. In addition, though, in this program Rachel meets with the participants weekly in a webinar, and holds many other FB Lives, to engage us and encourage us to do the same with our own clients. Rachel holds us accountable and makes us really dig deep inside ourselves to discover our own "why" and what motivated us to seek this path. By doing this Rachel helps us understand how to best reach our niche and how to become the best coach.
I have learned a lot about myself working with Rachel. For me though, the most impressive part of the program is how honest and authentic Rachel is. She puts herself out there, raw and real-I find her story so inspiring."
Debbie Janoff, CINHC, AADP
Certified Thyroid Coach, Certified Wellness Cooking Instructor
Wholey Fit Nutrition, LLC

You've taken courses, you've been in masterminds, but this is DIFFERENT.
It's about RUNNING YOUR BUSINESS, having the RIGHT MINDSET, and putting down the BRICK AND MORTAR FOUNDATION (even if you're 100% online!).
Eight years ago, I was in your seat. I was NOT ready. I didn't even know how to send a newsletter. I had questions and nobody had answers when I started. Even if you are a new coach or been in the game for a while, your questions need to be answered.
And that's when it hit me. I needed to create the ONLY membership for HEALTH COACHES.
You're ready to…
Save time. Let us send you the recipes you need and the biz materials your biz needs.
Save money. I've made this truly affordable for every budget.
Save yourself the stress of trying to be everything to everyone. Start being the CEO of your business instead of every moving part (time is money)!
HELPING YOUR CLIENTS AND YOUR BIZ  JUST GOT A WHOLE LOT EASIER.
Imagine having brand new content to rock your biz with Blogs, Recipes for your clients and more….
Take a Sweet Peek at what YOU get when you enter the Zone.
You are going to get all of this delivered to you:
For Your Clients …
RECIPES for your Clients, which include the following:
4 Weeks of Suggested Meals and Shopping Lists. Make it simple for your clients to follow a clean eating plan with easy-to-prep meals. These suggested meals are completely done for you right down to the shopping lists to help save you and your client's' time. This means your clients will have 4 weekly suggested meals a shopping list
Recipe Guide. Recipe Guide loaded with 16 delicious, clean eating recipes by Rachel and our own in-house, impeccable chef. The perfect resource for everyday clean eating, with easy-to-prep food options to give your clients the flexibility they need to stay on track and keep healthy. Created by Rachel and her pro chef, these recipes are mouthwatering, healthy recipes. Your clients will be HAPPY they're following your meal suggestions. Comes with a gorgeous, professionally-styled cover. Save yourself the time and money (yes, it costs $300/per recipe to have these created and tested!). The recipes are plant-based with meat protein options so you can fully customize the recipes to your liking and client needs. We've got you covered, coach!

Recipe Guide. 16 Recipes.
5 Breakfast
5 Lunch
5 Dinner
1 Dessert
For Your Business …
2 Done-For-You Blog Posts with a hot-selling call-to-action in every one. Use these as blog posts, discussion starters in your Facebook groups, newsletters, emails, or as handouts to give your clients at events or in the office. Beautifully designed and researched, your clients are guaranteed to love the wellness-boosting content. They're your authority-building ticket to a great first-impression, Coach.
Marketing Video to Market your Plans
Upon initial purchase, you also get:
Sales Page to Promote your awesome Meal Plans. Use this baby to launch and not worry about hiring a copywriter (Value $1000)
How to Use the Meal Plan Manual. Loaded with information on "Knowing your State Laws" plus pricing examples and information on how to use or sell your Meal Plans (Value $450)
Launch Manual. Loaded with information on nailing down your niche and launching your business. (Value $450)
A Welcome Letter Written to Give Your Clients the Warm Fuzzies for You from Day One: First impressions are everything. Make the right one with a welcome letter that makes your clients love you from the start. (Value $99)
Business Calls
PLUS, the Business classes you need to soar. You get 4-60 minute training calls :
Four Monthly Business-Building Masterclass 

During these classes, you will learn the vital and foundational aspects of building, launching and rocking your health coach biz.
Ask Questions.
Get Answers.
Get Results.
Access to Guest Experts: Learn from the pros on different topics like Pinterest, Memberships, Copywriting and how to get visible through the power of podcasts, and publications such as:

Sonja Bannon, Master Designer, Webmaster and, expert at crafting Memberships
Christine Blubaugh, Master Copywriter for Health Coaches
Lisa Simone Richards, PR & Visibility Strategist

Topics we will cover: Marketing, Launching, Website Essentials, Livestream and Video, Selling and Money Mindset.
Resource Library
Plus you get access to the ever-growing RESOURCE library – created for Health Coaches, Fitness Coaches, and Wellness Coaches Worldwide.
We cover subject such as:
Niche authority
How to Build a funnel using click funnels
Click funnel to mail chimp integration
Clickfunnels to infusionsoft integration
How you guarantee a great product launch
How to Build 1:1 Authority
How to Create JV relationships
Facebook Support Group
PLUS, I AM GIVING YOU THE BIZ MASTERMIND STARTER KIT, BECAUSE YOU NEED TOOLS TO ENTER THIS MASTERMIND and because I know how much it costs to make these fine goodies.
Power Point and Script
Opt in Freebie and 2d & 3D Image
Handout on Digestion
400 Social Media Images DONE FOR YOU
Facebook Support Group
Plus you get access to a Private Facebook Support Group.
You get full access to me and my entire support team to ask questions, get answers, and shoot ideas from the hip when it comes to marketing and getting clients. This will be your go-to support group full of world-impacting health coaches just like YOU!
IN OUR FORUM, ASK ME ANYTHING OR OUR ROCKSTAR COACH MODERATOR
I am here to help you build your business.
"I'm J Muenz. I'm a Detox Specialist and Holistic Health Coach for Women. I founded Fearful to Fit, where I lead retreats, workshops, classes and private coaching sessions. I hold online detoxes – both seasonal and weight loss oriented, but what I do goes beyond just eating and that is why I am here to help you build your business."
J Muenz
ACCESS THE BUSINESS MASTERMIND & MEAL PLAN MEMBERSHIP FOR ONLY $67 A MONTH 
Let's break down the cost!
It takes an entire support team to make this happen, a virtual support assistant, a designer, a copywriter, a chef, and a designer!
This is how long it would take you to do this all on your own:
Create and Test 20+ Recipes: 60 hours (average 3 hours per recipe or more)
Plan 4 weeks of meals: 10 hours
Create 4 weekly shopping lists: 12 hours
Write 2 blog posts, with research time: 4 hours
Total time: 86 hours or more!
Do you want to pay a Virtual Assistant $35 an hour?
Do you want to pay the writer at $75-$125 an hour?
Do you want to pay the recipe creator at $300 per recipe?
THE Answer is NO.
Let us do the work for you.
YOUR CLIENTS WILL LOVE YOU FOR MAKING IT EASY FOR THEM TO LOVE WHAT THEY EAT WITHOUT THE GUILT!
Don't miss an opportunity to grow your business. You've been waiting long enough to start making a real income doing what you absolutely love. Why wait anymore?
This Business Mastermind and Meal Planning Membership is a great tool for any coach looking to:
Offer more to their clients while saving a TON of time, money, and work.
Give your clients yummy recipes that would take you hours to create
Get the support you need to ACTUALLY rock your business like a pro
Rachel is brilliant, genuine, and truly cares about my business and my success!
"I have been following Rachel Feldman for many years, and have purchased many of her done-for-you program. I was also in a Mastermind with her approximately 18 months ago. I am now part of her Meal Plan for Coaches Program with a Mastermind. As I have always found in the past, Rachel over-gives in both her handouts and with the information that she gives. She is very generous with her time and she has an incredibly wide range of knowledge about health issues as well as with her business coaching. This program is such an asset for any health coach or any other type of coach. Her guidance in her weekly meetings is invaluable and she is always there to give her input and suggestions on how to better implement our programs and be a better coach. I would highly recommend this particular program because they all support what we are doing as coaches and in every aspect can help us be more effective with our clients. The support and encouragement Rachel and her team give are invaluable. Highly, highly recommend this!"
Lynne Wadsworth, CHCAADP Certified Holistic Health Practitioner
Certified Health & Wellness Coach
Certified Wellness Cooking Instructor
Certified GetFit21 Coach
Holistic Health & Wellness, LLC
Put it to work for your business NOW and join these happy, successful coaches:
I sold 20 summer detoxes and made $1660
I started out as a health client in 2011 and worked with Rach for 4 months to lose 15 pounds!! Then when I graduated from IIN, I started Fearful to Fit and purchased Rach's DFY programs. From just this year, I sold 20 summer detoxes and made $1660, then on a whim, sold 11 paleo detoxes and made $917 for a grand total of $2,577!! I followed the advice and suggestions, put my own spin on it and voila! Can't wait to offer more in 2017!
JJ Muenz
Rachel's programs look incredibly professional.
When I was first starting out, I didn't know where to begin. It was a blessing to find Rachel and her team. Her programs got me out there and the support in the forums is priceless. I sold 35 Spring Cleanses & rolled 4 clients into my transformation program, generating more monthly income & boosting my confidence!! Rachel's programs are not only are they put together with thought and care, they look incredibly professional.
Trish Ward
---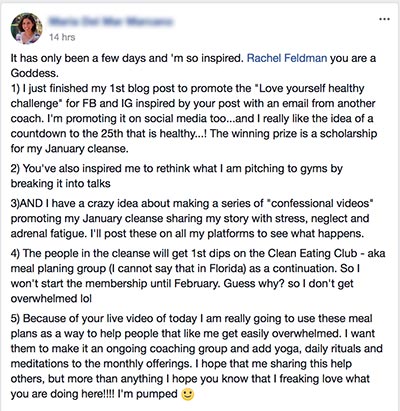 Everything you need to jumpstart your business is right here
What happens when you subscribe?
Each month you will get your recipes sent straight to your email. From there, you can customize them, send them to your clients, compile them into an eBook, use them as the basis for a blog by highlighting an ingredient – use them however you like! It's so easy! And because these are meal suggestions and not dietary plans, you can use them in any way without any worry of putting your business at risk!
Is this membership good for you if you are in a red state?
First, what is a red state? Well, hop on over to Nutrition Advocacy (.org) and find your state. If you are in a red state you cannot use terms like 'meal plans', but you can still offer your own personal suggested meals that have helped you with your own health goals. (wink, wink) We've made it super easy to help you offer these recipes in your business because we make no mention of calories, nutrients, or diets. We'll cover all of this in the monthly masterclasses, so just hop on in with us, and we've got your back! We're on the same mission as you, coach.
Are the recipes in alignment with a certain diet?
The recipes do not follow a specific diet. They are 100% based on pure, clean eating. They are designed to fuel the body with energy and vitamins and help your clients eliminate junk by adding in healthier options. The recipes are plant-based with meat protein options so you can fully customize the recipes to your liking and client needs. Brand them as your own!
If I decide to cancel my membership, can I still use the membership materials I previously downloaded?
Yes, of course! You can continue to use all the recipes and materials you've previously downloaded during your paid membership. All downloads that have been released to you up until when you cancel are yours to use, but you will not be given access to future downloads. If you decide to cancel your membership, your account will remain active until the end of your member subscription term. After that date, your account will no longer be active, you will not receive any future member materials, and you'll also be removed from the Facebook group because it is only for active members. If you would like to cancel your membership and not be billed again, you will need to cancel before the membership renewal date. No refunds will be given for any downloads you've already received since they are non-returnable, and you will not receive a refund if you do not cancel before your membership renews.
What happens if you join the membership in the middle of the month
You get access to the month's materials. For example, if you buy March 15th, then you get access to the month you purchased with all the content or access to the year.
When am I charged?
You will be charged upon purchase.
Then you be charged 30 days later on the date you purchased the next month or the next year if you buy the annual package.
You will be notified 2 weeks before your renewal.
When are the materials released?
The materials are released on the first of every month, for that month. They will become available on your dashboard.
Which membership option is for you?
Option #1
Monthly Access
Monthly access is for the wellness professional who likes to play it safe, who may not be ready to commit to their business goals for the entire year just yet, and want to ease into this process of what to offer. This is perfect for you if you'd like to have some recipes on hand and drip them out to see how your audience and clients enjoy them, but you aren't ready to commit to offering a monthly membership to your clients where you can earn over $3,000 each month.
Option #2
Year-Round Access
Year-Round access is for the go-getter, the wellness professional who has big dreams to offer recipes in their one to one coaching, add the recipes to their newsletters or social media posts, and who dream of having their own membership where clients join for $67/month. You want to get at least 50 paying membership clients and earn over $3,000/month and you want US to help YOU get the work done.
So, are you going to RUN with your dream of building a successful wellness business or take it step-by-step?
Choose your membership.
It's your turn to get clients and get paid.
SAY yes to SALES and CLIENTS.
Buy It and Got For It!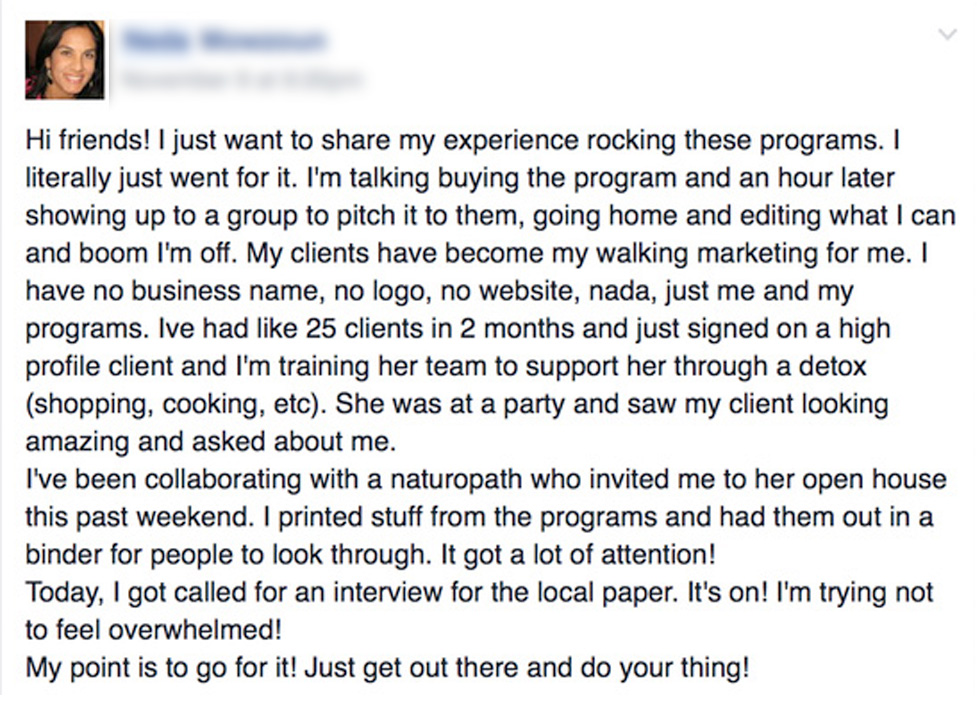 Neda - Facebook Comment
I've learned the importance of showing up.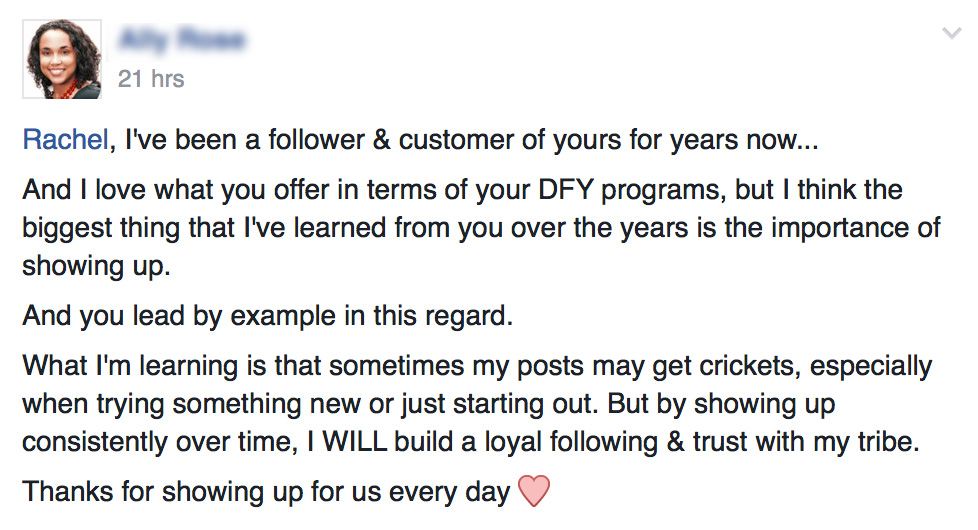 Ally - Facebook Comment
Hey, freedom-searching coach. I'm Rachel Feldman, long-time Health Coach turned Business Launch Coach.
I'm the bold, brazen creator of the Health Coach Done For You Programs. I graduated from the Institute for Integrative Nutrition in New York City, Wild Rose Natural College of Healing, the International School of Detoxification and Natalia Rose Advanced Detox Certification Training. I've been featured in Florida Man and Woman magazine, Mind Body Green, Williams & Sonoma blog, Ripe & Ready, The Huffington Post, Thrive Global, Forbes, and many others. I am also a featured business educator at the Hippocrates Health Institute.
For years, I struggled with chronic health issues. While digging into the root cause of my own health struggles, I discovered the power of clean eating and detoxing. Clean eating and detoxing became the foundation for my own health transformation, and also the core of my own health coach practice and the Done For You Programs. After building my health coaching business from bare bones to six figures, I expanded my mission to help new coaches follow suit and create their own thriving success. I created these programs for health coaches so they could spend less time creating and more time coaching clients.
To date, I've helped over 8,500 coaches finally turn a profit, book more clients, and sell out programs of their own. I am beyond passionate about creating a world with less sickness and more happiness, whether I'm behind the scenes helping other health coaches spread their message and their work with the Done For You Programs or coaching clients how to launch the programs and their business successfully. Even though I'm always on the go, teaching, speaking on podcasts and summits, I always make time for a green smoothie, chocolate at noon, and a cuddle session with my hubby and kids.
I'm here to give you REAL TOOLS to build a business that gives you FREEDOM.
So prepare yourself, coach. I'm ready to reveal every juicy detail of my business success story AND help you crush it online and offline.
Do you still have questions? Please check the FAQ page for answers to common questions.
REFUND POLICY: Due to the nature of a downloadable product, we do not issue refunds. If you have questions about what product is right for you, please fill out the contact form. Thank you for understanding and we look forward to supporting you. To read the full disclaimer and FaQ's, please visit https://yourhealthcoachbiz.com
Be an Affiliate
Want to be an Affiliate? Sweet. You can rock the ripple effect and share the love with another wellness professional. Join our affiliate program and receive a referral for rockin' the ripple effect and helping another wellness professional start their business with the right tools and the right community support.
Click here to join the affiliate program.
IMPORTANT NOTICE: Your use and purchase from this site signifies your agreement with my Terms & Conditions and Product Disclaimer. If you do not agree with my Terms & Conditions and Product Disclaimer, please do not buy this product and close this website.
Business Mastermind & The Meal Plan Club by Rachel Feldman is licensed under a Creative Commons Attribution-NonCommercial-NoDerivs 3.0 Unported License. RE-SALE OF ALL PROGRAM MATERIALS IS PROHIBITED.
SaveSave
SaveSave
SaveSave